Wanna Be Paparazzi & Make Easy Money?
Email us your Celebrity Digital Photos and Videos... There could be a fortune sitting in your mobile handset. If you snapped it then send it to us at:
Very. Important. Pictures.
26-11-00 news EXCLUSIVE
Hurt back on the Bubbley...
The Irish based Hollywood legend John Hurt (star of Midnight Express and The Field) is back on the Champagne after a spell as a tea totaler. Seen here in ShowBizIreland.comís exclusive picture out at a charity auction with the singer Chris De Burgh just before the weekend the actor was back drinking Champagne and looking tired.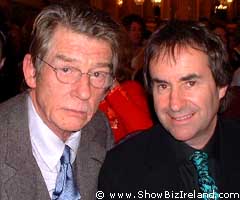 John Hurt & Chris De Burgh
This comes only weeks after the star returned from filming in Greece and vowing he was off the drink due to the fact that he could not stand the hangovers.
The actor was the guest of De Burgh at a charity art auction in Dublinís Shelbourne Hotel. The actor and singer are neighbours in County Wicklow and close friends.
Hurt who is now 60 was filming in Greece on a film called Captain Corelliís Mandolin with Nicholas Cage who plays the lead role. Hurt has talked of the effects drink has had on his life before. He admitted ďThe drink was effecting me badly. I was feeling lousy especially in the morning. Now I have a much fuller time with people. The more you donít drink the more you find you can be high as a kite anyway.Ē He continued ďI had huge fun when I was drinking. But towards the end I was not genuinely enjoying it. I drank mainly for enthusiasm, to prolong the night and the laughter and the conversation."
Hurt is now in a long term relationship with Sarah Owens and living full time in Ireland eased off the drink and then gave up for a while after the end of his third marriage.