Wanna Be Paparazzi & Make Easy Money?
Email us your Celebrity Digital Photos and Videos... There could be a fortune sitting in your mobile handset. If you snapped it then send it to us at:
Very. Important. Pictures.
11-05-06 news EXCLUSIVE WITH PHOTOS
Dorff & Cattrall Film Sets...
The old adage"celebrities are like buses" (coined by us!) struck yet again last weekend as a flood of Hollywood stars landed on our doorstep all-at-once...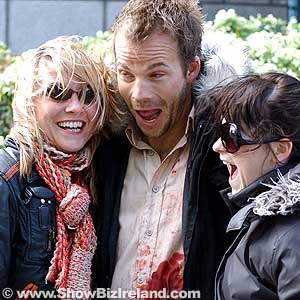 STEPHEN DORFF & FANS @ ON 13 SET
In one day last week we managed to photograph Stephen Dorff, Kim Cattrall, Sean Pertwee, Jaime Murray, Bruce Springsteen and John McGinley after numerous weeks of failed celebrity sighting tip-offs!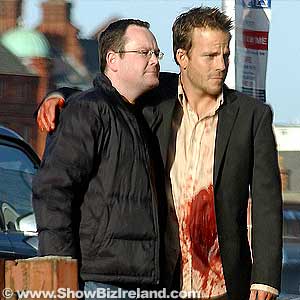 STEPHEN DORFF & FAN @ ON 13 SET
First off we caught up with Stephen Dorff on the set of his latest movie 13. The handsome actor was covered in blood in-between scenes enjoying a cigarette and a Starbucks coffee on his break.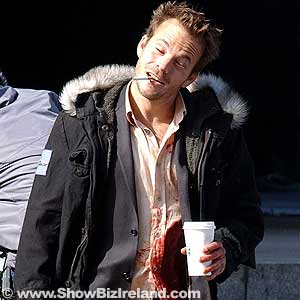 STEPHEN DORFF @ ON 13 SET
He kindly took the time to chat with fans and pose for photos on the set which was near Dublin's Docklands...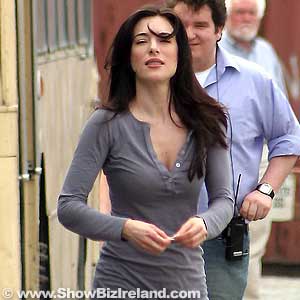 JAIME MURRAY @ ON 13 SET
His co-stars in the movie, who both have famous fathers Jaime Murray (daughter of Billy Murray, Eastender's Johnny Allen) and Sean Pertwee (son of Jon Pertwee, Doctor Who), were also spotted on the 13 set.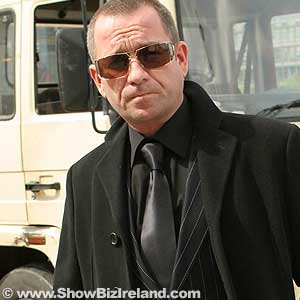 SEAN PERTWEE @ ON 13 SET
Another sexy Hollywood star Kim Cattrall was filming in Dublin, this time wrapping up her final scenes in John Boorman's A Tiger's Tale...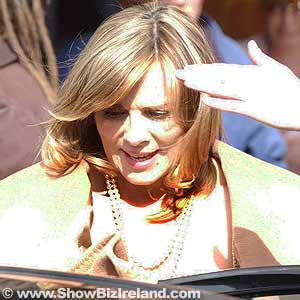 KIM CATTRALL @ ON TIGERS TALE SET
Sex in the City star Kim has gone to great lengths not to be photographed in Ireland whilst here over the past number of weeks so these slightly over exposed images we managed to grab as she left the movie set at DCU were merely a moral victory for ShowBiz Ireland!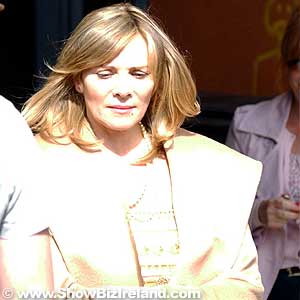 KIM CATTRALL @ ON TIGERS TALE SET
The Boss Bruce Springsteen was also around Dublin last weekend - we spotted a rather damp rock star returning to his hotel suite at the Merrion after his sold-out concert.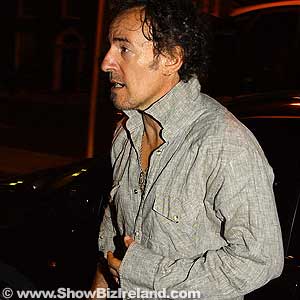 BRUCE SPRINGSTEEN @ MERRION HOTEL
We also caught up with Bruce's wife Patti Scalfia who was more than happy to pose for us outside their hotel...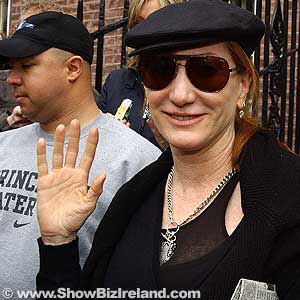 PATTI SCALIFA @ MERRION HOTEL
Lastly, Scrubs star John McGinley headed out for a night on the town with a friend. The two likely lads were so eager to get to the bar in Lillies Bordello they hardly noticed our cameras as they entered the VIP club!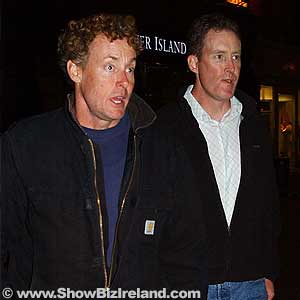 JOHN MCGINLEY @ LILLIES BORDELLO
You see? celebs ARE like buses; you wait for ages for one to turn up and six show up all at once... They must travel in herds!
Discuss this story in ShowBiz Ireland's Forums