Wanna Be Paparazzi & Make Easy Money?
Email us your Celebrity Digital Photos and Videos... There could be a fortune sitting in your mobile handset. If you snapped it then send it to us at:
Very. Important. Pictures.
14-05-02 news EXCLUSIVE WITH PHOTO
Alison Doody Making a Comeback...
Due to popular demand we have tracked down the Irish actress Alison Doody, star of such movies as Indiana Jones and the Last Crusade and the Bond movie, A View to a Kill.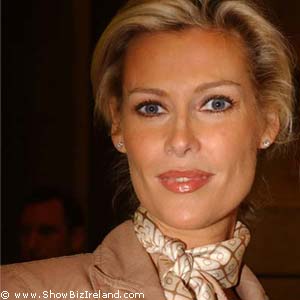 Alison Doody at a recent party in Dublin
The actress left Hollywood to return to Ireland in 1994 after her last movie Major League 2 with Charlie Sheen to get married to the Irish media tycoon Gavin O'Reilly.
Since then the couple have had two children and Alison has not stepped into a movie costume right up to this year. Recently she was asked to do a small cameo part in the Michael Caine film The Actors in Dublin where she lives.
In this she played herself in an award ceremony and here she regained a lust for the movie industry once more. "I was asked to a small role in The Actors and it was here that I realized how much I missed the movie industry. I miss the people I used to work with likes of Pierce Brosnan and Liam Neeson so I must admit I would love to get into making a few more movies again now that my children are in school. I was not retired in fact I even looked at going for a role in Lord of the Rings but being in New Zealand for 18 months but me off the idea."
She went on, "the script and part was right for a return in The Actors so I did it and now if the right script came along I would love to go back into the industry again. I am still represented by the Hubbards casting agents so I can say safely that if the right role came along I would definitely consider it."