Wanna Be Paparazzi & Make Easy Money?
Email us your Celebrity Digital Photos and Videos... There could be a fortune sitting in your mobile handset. If you snapped it then send it to us at:
Very. Important. Pictures.
30-03-01 news BY MICHAEL MCDERMOTT
Review & Pic of bash with Jason Patric...
ShowBizIreland.com has got the first exclusive pictures of Hollywood star Jason Patric (star of Speed 2, The Lost Boys and Rush) in a new role in Dublin's Gate Theatre. Michael McDermott reviews his performance...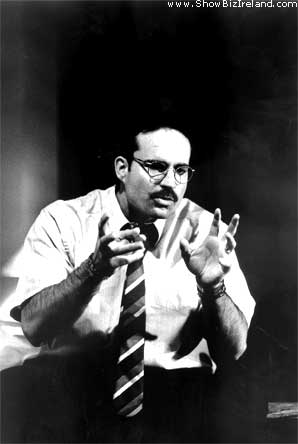 Jason Patric in bang @ The Gate, Dublin
Ordinary lives and simple stories are the stock of Neil Labute's bash which received its Irish premiere on Wednesday night in Dublin's Gate Theatre. Hollywood star Jason Patric plays a nameless character telling the audience about how his family life, recalling teenage school experiences and Jason O'Mara (John) and Justine Mitchell (Sue) reminiscing about their high school romance.
However, each of these three short stories Iphigenia in Orem, Medea Redux and A Gaggle of Saints contain a tortured twist, the flicker switch from quotidian mundanity to dark tragedy.
Patric's character is guilt ridden over his child smothering to death, Flora Montgomery's (star of When Brendan Met Trudy, the recent film release based on Booker prize winning author Roddy Doyle) character reveals her teacher impregnated and abandoned her while John recounts how he beat up a gay person in a toilet in Central Park unknown to his girlfriend.
Written (and directed for the first time) by Labute, bash is a gripping take on middle-class America and the hidden surprises it contains beneath the seams. Bearing heavy influences of Raymond Carver, the language is gripping and taut, the observations razor-sharp and the performances are flawless interpretations.
Casting glimmers of redemption into the first two monologues and contrasting heavy dollops of innocent 'mom and apple pie' hammer with the vicious attack in the third play, bash is a rare piece of theatre woven from the cloth which regular folk weave.
Get your Movie theme Ringtones here...