Wanna Be Paparazzi & Make Easy Money?
Email us your Celebrity Digital Photos and Videos... There could be a fortune sitting in your mobile handset. If you snapped it then send it to us at:
Very. Important. Pictures.
19-03-01 news
Ronan buys new Luxury Pad...
Ex-Boyzone star Ronan Keating has celebrated the birth of his second child by splashing out on a brand new £1.1 million pound home in County Kildare which comes with free lifetime gold club membership. And Westlife's Nicky Byrne and his girlfriend have sold their story to OK magazine for £100,000.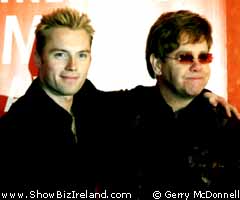 Ronan & Elton John @ the Meteor Irish Music Awards
First off Ronan's new luxury four-bedroom mansion cashed in at a cost of £1.1m but it is however not located in just any ordinary estate. The singer and his wife Yvonne have bought their new home in the middle of a golf course in Straffen on Kildare. Located on the grounds of Multi-Millionaire Michael Smurfit's Kildare and Country Club also known as The K-club, the Keating new home boasts some of Ireland's wealthiest next door neighbors.
Doctor Michael Smurfit himself is currently building a massive 220 thousand square foot mansion near the Keatings new home while former supermarket magnate Ben Dunne and horse- racing millionaire Vincent O'Brian will also be next door neighbours.
A friend of the couple told The Star "They've got two kids now and the house is perfect for them. They paid £1.1m and this also gives Ronan free lifetime membership of the golf club here."
The Keatings will also have a brand new set of famous neighbors in the surrounding areas outside the K-club include rock millionaire Ronnie Wood from the Rolling Stones and the Minister for Finance Charlie McCreevey who also lives near by. Aswell as the host of visiting stars who stay at the luxury K-club hotel. In the past The Spice Girls, Michael Douglas, Catherine Zeta Jones and Jack Nicolson have all been guests.
The couple will however have only a short distance to move as they have been living in the Kildare area since they married so as to be near Yvonne parents who live in the nearby village of Clane. However, this is not the first time the couple have lived in the K-club. Back in 1998 after the untimely and tragic death of his mother Marie, Ronan and Yvonne moved into the de-lux apartments in the K-club after their secret wedding in the Caribbean Island of Nevis. The couple stayed there for the first few months of their married life until finding their dream home nearby in Staffen.
Ronan then sold the home he had bought for his mother and moved in with Yvonne. The couple then bought another luxury mansion in England once Ronan's solo career took off.
In the meantime while Ronan was spending money Westlife star Nicky Byrne and his long-term girlfriend Georgina Ahern the daughter of the Taoiseach Bertie Ahern were making money after selling their story to OK magazine for £100,000.
In the exclusive interview the couple talked about moving in together, they're new house in County Meath, which they received the keys for last Thursday, and the difficulties in staying together as a couple with Nicky's grueling schedule.
Last week the couple traveled to Paris during a break in Westlife's run of concerts in London's Wembley Arena to pose for the OK camera's in a tell all interview in a French hotel.
This is the first time a child of a Irish Prime Minister has ever posed for a glossy magazine. Although how much they were paid has remained a tight lipped secret sources close to the band say that each of them will get at least £50,000 each.
In the interview the couple go into detail about their new home in Ashbourne County Meath which Nicky bought late last year for the couple to live in at a cost of £750,000.
Nicky and Georgina are the second Westlife couple to pose for the glossy magazine. Only recently Nicky's Westlife band mate Bryan McFadden spoke in the magazine with his girlfriend Kerry Katona about the arrival of their first child together later this year.
The band returned home yesterday to enjoy their last day off ahead of an amazing 11 sold out shows in Dublin Point Theatre which kick off tonight.
SEE BACKSTAGE PICTURES OF WESTLIFES FIRST IRISH GIG AT MIDNIGHT TONIGHT LIVE ON SHOWBIZIRELAND.COM