Wanna Be Paparazzi & Make Easy Money?
Email us your Celebrity Digital Photos and Videos... There could be a fortune sitting in your mobile handset. If you snapped it then send it to us at:
Very. Important. Pictures.
27-06-06 news EXCLUSIVE WITH PHOTOS
Brian & Nicky Pitch Battle...
Despite the fact that singer Brian McFadden walked out on Westlife and his fellow Dubliner bandmate Nicky Byrne the two remain firm-friends and still enjoy a kick-about together...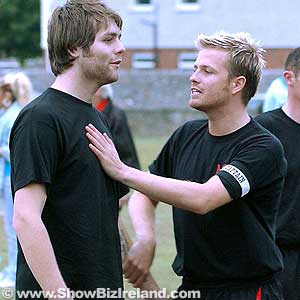 BRIAN MCFADDEN & NICKY BYRNE 5-A-SIDE SOCCER
As the Irish media were in a Pamela Anderson frenzy last weekend ShowBiz Ireland side-stepped the chaos and instead caught up with two of our old favourites Brian McFadden and Nicky Byrne.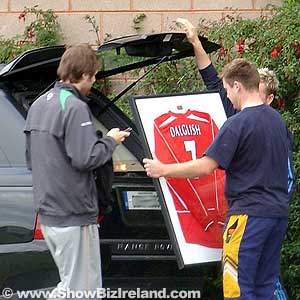 BRIAN MCFADDEN & NICKY BYRNE 5-A-SIDE SOCCER
When we heard the two North Dublin singers were about to take part in a local 5-a-side charity football match in Portmarnock we made our way along only to see Nicky with a genuine Kenny Dalglish Liverpool shirt in a frame and show it off to Brian, his wife Georgina and a few of his old mates as we pulled up...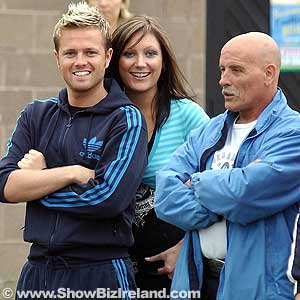 NICKY BYRNE, GEORGINA BYRNE & NICKY BYRNE SNR 5-A-SIDE SOCCER
We don't know whether the jersey was a prize for the winners of the soccer tournament or Nicky just showing off how much great stuff he has - either way all assembled seemed really impressed!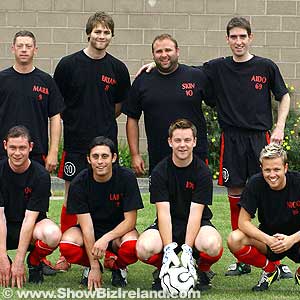 THE TRIPLE BARRELLERS 5-A-SIDE SOCCER
Brian & Nicky grabbed their aptly named team-mates "The Triple Barrellers" together and got ShowBiz Ireland to take the traditional team photo before the soccer started (well it's about time we pulled our weight!)...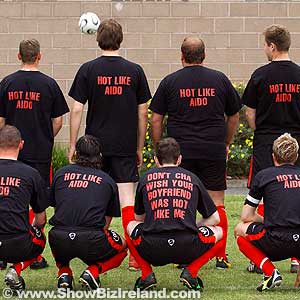 THE TRIPLE BARRELLERS 5-A-SIDE SOCCER
Then on cue they all spun around to reveal "Hot Like Aido" written on the backs of their shirts, all except team member Aido who had "Don't Cha Wish Your Boyfriend Was Hot Like Me" written on his jersey - obviously an in-house joke!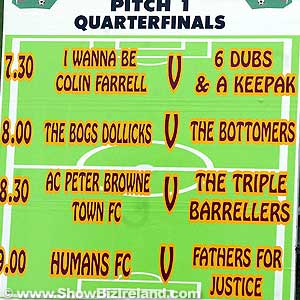 TEAM SHEET 5-A-SIDE SOCCER
Apart from a few of their old friends and a few Portmarnock locals the two world famous singers were pretty much treated as normal players on the pitch - unusually no hoards of screaming girls for Brian & Nicky here...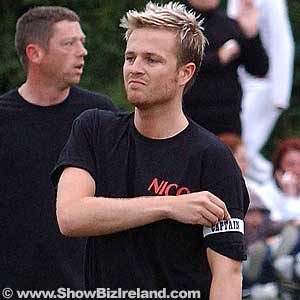 NICKY BYRNE 5-A-SIDE SOCCER
All except for Nicky's sexy wife Georgina and his Dad Nicky Senior who both encouraged him and the rest of the Barrellers from the side-lines.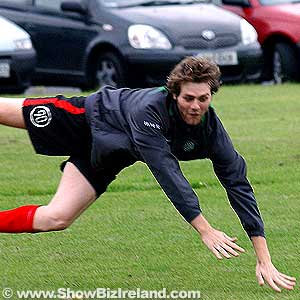 BRIAN MCFADDEN 5-A-SIDE SOCCER
We don't know who ended up winning the mini tournament as we got the call that Pamela Anderson was on the move again on the other side of town and we had to speed off. That, plus we've learned from experience that it's better for us paparazzi types to beat a hasty retreat before night falls out in the suburbs as sometimes the locals get restless!
Discuss this story in ShowBiz Ireland Forums...