Wanna Be Paparazzi & Make Easy Money?
Email us your Celebrity Digital Photos and Videos... There could be a fortune sitting in your mobile handset. If you snapped it then send it to us at:
Very. Important. Pictures.
13-06-06 news EXCLUSIVE WITH PHOTOS
Summer Gigs Get Some Metal...
The Summer Sunshine hit Ireland with a bang last week and attracted some of the world's top metallers such as Metallica and Guns N Roses to these glorious shores...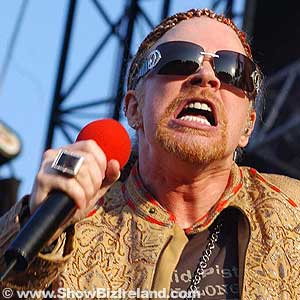 AXL ROSE & GUNS N ROSES @ THE RDS
It's not very often you can bank on glorious sunshine in Ireland but the past few weeks have seen temperatures here rise beyond those in the Mediterranean which is a real bonus considering we had some big outdoor concerts at the weekend.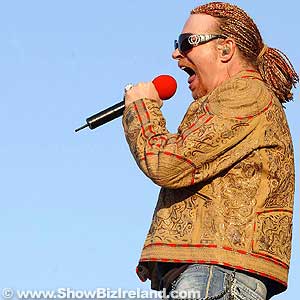 AXL ROSE & GUNS N ROSES @ THE RDS
Guns N Roses fronted by braided hair singer Axl Rose, minus Slash and some of the other original members, played to a packed crowd in The RDS under a clear blue sky last Friday...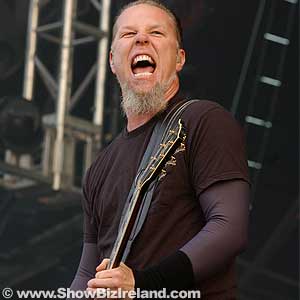 METALLICA @ THE RDS
That was followed and topped by big noise Metal-heads Metallica on Sunday who played a fantastic set of classic tunes to a full house of sweaty hairy rockers.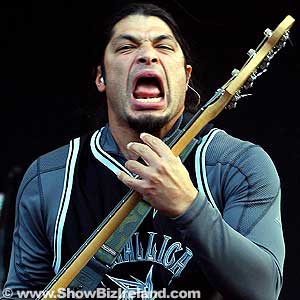 METALLICA @ THE RDS
Even with a few more grey hairs and a new bass player Metallica have lost nothing from their big sound and full speed stage show...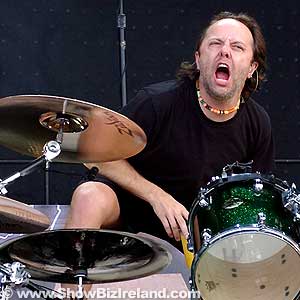 METALLICA @ THE RDS
The Metallica boys even had support from Will Smith's wife and The Matrix star Jada Pinkett-Smith - and according to reports Big Will was backstage watching his stunning wife rocking-out and said to a crew member that the Dublin weather was hotter than Miami!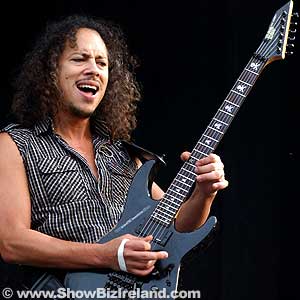 METALLICA @ THE RDS
Italian singer Riccardo Cocciante was also spotted at the Metallica gig with Irish celebrity Personal Trainer Pat Henry - and although we aren't too familiar with Riccardo's work here at ShowBiz Ireland some Italian girls in the crowd went crazy when they saw their idol...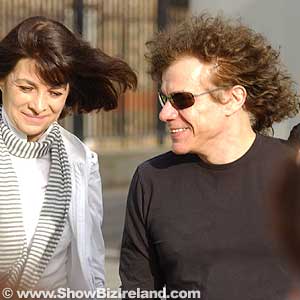 RICCARDO COCCIANTE WATCHES METALLICA @ THE RDS
Another concert of note that went down in the Capital in the past few days was MTV favourite and all-round crazy Ted Nugent who unapologetically brandished the USA flag in Vicar Street...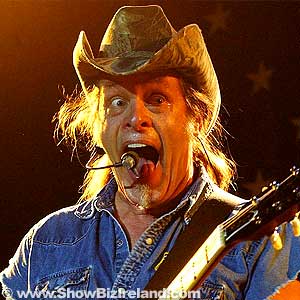 TED NUGENT @ VICAR STREET
Although he had left his assorted deadly hunting weapons back in the good old USA Ted brought his non-PC wit with him to Dublin even making our photographer almost drop his camera with laughter at one of his unrepeatable quips!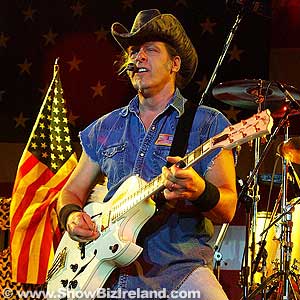 TED NUGENT @ VICAR STREET
Robbie Williams played a reportedly very disappointing show in Croke Park last week, fortunately ShowBiz Ireland didn't get accreditation for the gig so we were spared the agony...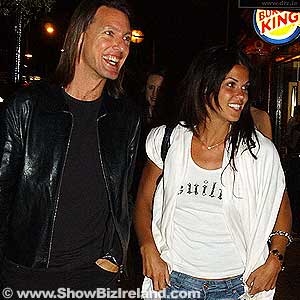 GLENDA GILSON & ROBBIE WOOTON @ LILLIES BORDELLO
No doubt the Robster had his mind on England's World Cup match the following day but he's promised to return before Christmas to play a FREE concert to all ticket stub holders - Irish model Glenda Glison attended the sold-out show with Spirit boss Robbie Wooton leading to many in the media speculating that these two are dating. Well are they?
Discuss this story in ShowBiz Ireland's Forums