Wanna Be Paparazzi & Make Easy Money?
Email us your Celebrity Digital Photos and Videos... There could be a fortune sitting in your mobile handset. If you snapped it then send it to us at:
Very. Important. Pictures.
05-06-03 news EXCLUSIVE WITH PHOTOS
Brad Pitt's Troy Set Pictures...
Well, first we went into the Irish country side this week now ShowBiz Ireland gone all the way to Malta to bring you pictures from the upcoming Brad Pitt movie Troy.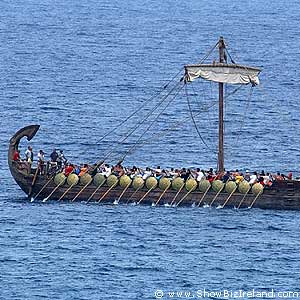 Troy set Golden Bay, Malta
When ShowBiz Ireland got the tip-off that Brad Pitt was hanging around the beaches of Golden Bay in Malta filming the epic tale of Troy we immediately dispatched our photographers.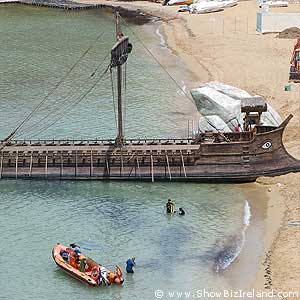 Troy set Golden Bay, Malta
You see, Troy was initially supposed to be filmed here in Ireland so you can imagine our disappointment when the location was moved to Malta.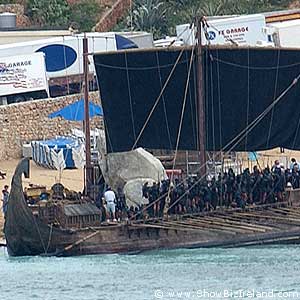 Troy set Golden Bay, Malta
Unfortunately we didn't manage to spot muscle bound Brad on the set for the few days we were hanging around - but we did see the massive boats constructed for the movie going through their rehearsals on the calm seas.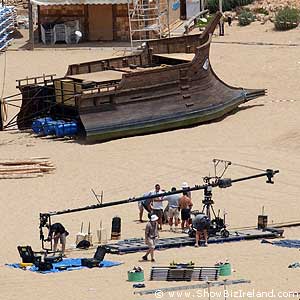 Troy set Golden Bay, Malta
There were also some weather problems for the production crew whilst we looked on. For the first two days of rehearsing for what looked like a beach landing battle the weather was perfect, but on the day they went to film the scene the skies opened with rain and fork lightening.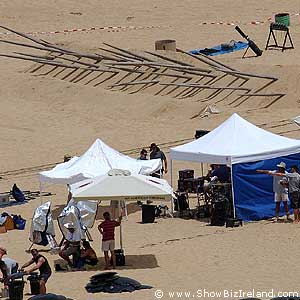 Troy set Golden Bay, Malta
Apparently it hasn't rained like that in Malta during May for 20 years... One witty ShowBiz Ireland photographer joked, "they could have got that weather in Ireland - guaranteed!"
There are a number of Irish actors in Troy including Brendan Gleeson who plays Menelaus and Peter O'Toole will play Priam.
Other actors on note in the Greek siege of Troy are Brad Pitt as Achilles, Eric Bana as Hector, Orlando Bloom as Paris, Sean Bean as Odysseus and Diane Kruger as Helen of Troy.
If you have any news about the Troy set or castings please discuss in ShowBiz Ireland forums here...
Get your Pop Ringtones here