Wanna Be Paparazzi & Make Easy Money?
Email us your Celebrity Digital Photos and Videos... There could be a fortune sitting in your mobile handset. If you snapped it then send it to us at:
Very. Important. Pictures.
27-07-06 news EXCLUSIVE WITH PHOTOS
Ronan's VIP Swingers Club...
Just as the Irish celebrity scene drys-up with most stars heading to foreign sandy shores on holidays, good old Ronan Keating came to the rescue with a big bash at the K Club...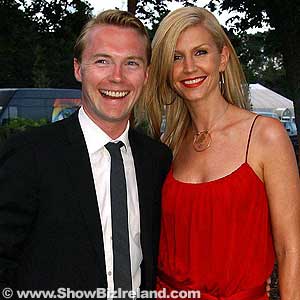 RONAN KEATING & WIFE YVONNE KEATING @ THE K CLUB
Each year about this time we smack our foreheads here at ShowBiz Ireland as it dawns on us yet again that the end of July / start of August is a VERY quiet time for snapping celebrities as anyone with sense has headed abroad on a summer sojourn.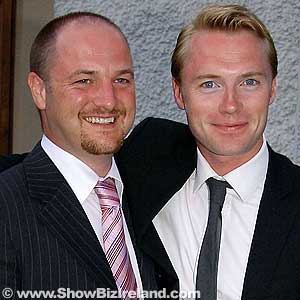 RONAN KEATING & MIKEY GRAHAM @ THE K CLUB
Lest we forget this annual migration again we reckon a Guy Pearce style Memento tattoo on the forearm reading: "Anywhere But Ireland - July & August!"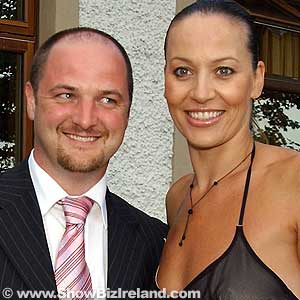 MIKEY GRAHAM & WIFE KAREN GRAHAM @ THE K CLUB
Irregardless of the seemingly celebrity deserted VIP clubs, bars and hotels we soldered-on and ventured outside the capital as we heard pray-tell of a group of well-known faces gathering at the plush K Club in County Kildare...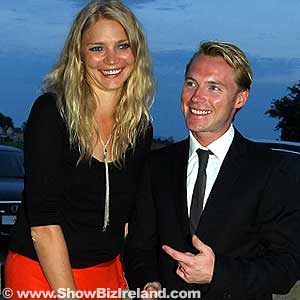 RONAN KEATING & JODI KIDD @ THE K CLUB
What with the K Club being the location for the upcoming Ryder Cup we thought it was worth a swing-by (forgive the pun), and found Ronan Keating hosting a very nice little dinner party for a number of his close friends, family and familiar faces from the world of sport.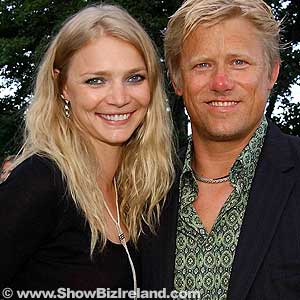 JODI KIDD & PETER SCHMEICEL @ THE K CLUB
Ro's old mate from Boyzone, Mikey Graham, was there with his better half Karen... Mikey was sporting a new shaved head hair style and goatee beard and looking very contented with his life post boyband.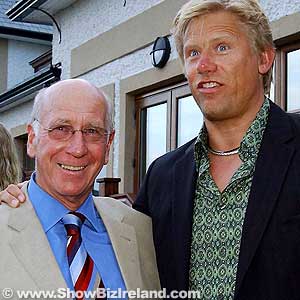 SIR BOBBY CHARLTON & PETER SCHMEICEL @ THE K CLUB
Lanky toff supermodel and racing car driver, Jodi Kidd, was also in attendance leaving male guests looking slightly uncomfortable as she towered over them while posing for photos - that was until we shoved former Manchester United goalie Peter Schmeicel into the frame and balanced things out...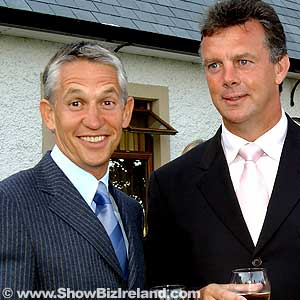 GARY LINEKER & DAVID O'LEARY @ THE K CLUB
The reason for this gathering of stars was a charitable one, as is par-for-the-course with most Ronan Keating photo opportunities (again, forgive the pun).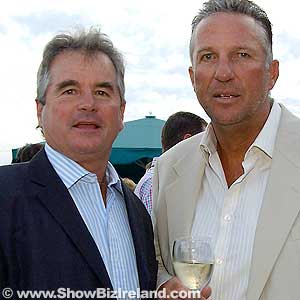 ALAN LAMB & IAN BOTHAM @ THE K CLUB
It was The Marie Keating Foundation 7th Annual Celebrity Golf Classic & Dinner hosted at the K-Club with monies raised supporting the Foundation's three Mobile Cancer Information Units based in the Eastern, Western and Southern regions of Ireland.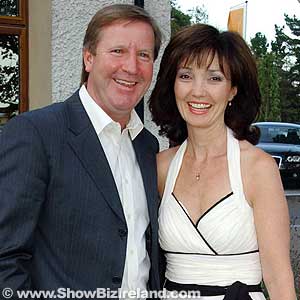 RONNIE WHELAN & WIFE CATHERINE WHELAN @ THE K CLUB
Many faces from the world's of ShowBiz and Sport including Gary Lineker, Ian Botham, Alan Hansen, Gerry Kelly, Pat Kenny, Tony McCoy, Lloyd Saltman and Sir Bobby Charltonattended the event as did many others.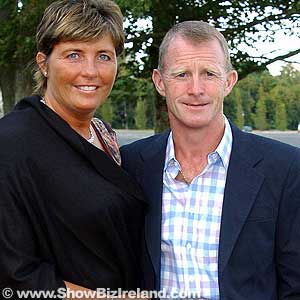 MICK KINNANE & WIFE CATHERINE KINNANE @ THE K CLUB
And you will be happy to hear that their combined efforts raised well over €100,000 for the vital Irish charity...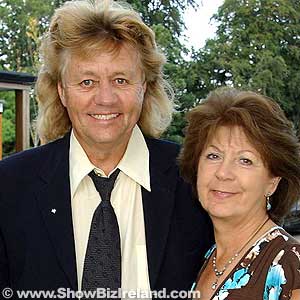 BEV BEVAN & VATERIE @ THE K CLUB
Discuss this story in ShowBiz Ireland's Ronan Keating Forum...