Wanna Be Paparazzi & Make Easy Money?
Email us your Celebrity Digital Photos and Videos... There could be a fortune sitting in your mobile handset. If you snapped it then send it to us at:
Very. Important. Pictures.
26-07-04 news EXCLUSIVE WITH PHOTOS
Flatley Eyes Hawking's Black Hole...
Mensa member and Irish Dance Supremo Michael Flatley joined-up with other high IQ types in Dublin last week to attend a Black-Hole conference with top Cosmologist Stephen Hawking...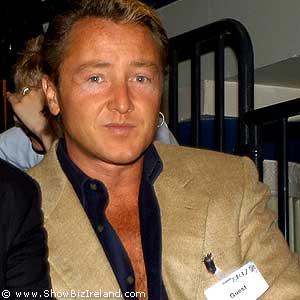 FLATLEY AT HAWKING CONFERENCE
Many people at the International Conference of General Relativity and Gravitation were wondering what the world's most famous dancer was doing at a talk by the world's most famous physicist?
Well, what many people don't know is that former Golden Gloves boxer Michael Flatley actually has a genius IQ and no doubt has interests beyond foot tapping and busty blondes.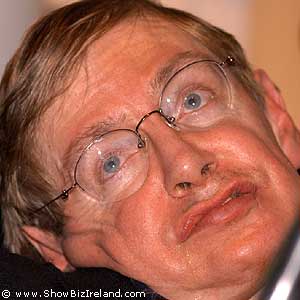 STEPHEN HAWKING BLACK HOLE CONFERENCE
Wheelchair bound professor Stephen Hawking was in Dublin to state to the world that he may have solved and problem that may have not been a problem in the first place and also give a colleague of his a Baseball Encyclopedia...
Confused? We're only getting started!
Way back in the 70's Stephen Hawking bet another professor John Preskill that Black Holes don't give out any information and that anything that goes into one is lost forever. So whether a Black Hole consisted of dead planets or dead celebrities it would be impossible to decipher its contents.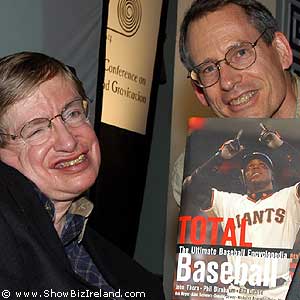 HAWKING PRESENTS PRESKILL WITH PRIZE
But due to something to do with virtual particles he now concludes that black holes do indeed emit information about their contents, although in a mangled form.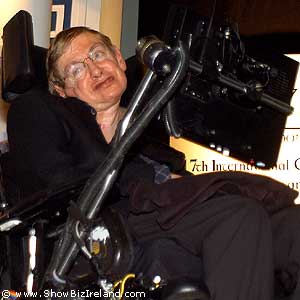 STEPHEN HAWKING BLACK HOLE CONFERENCE
We don't want to get into the Math but it seems that black holes do indeed degrade due to the splitting of these virtual particles and because information cannot just disappear (it has to go somewhere) it can be retrieved.
So back to the joke... Hawking presented his colleague with Total Baseball: The Ultimate Baseball Encyclopedia because an encyclopedia, unlike a black hole, yields information easily...
Funny? I nearly pissed meself! Those crazy science-types...
Discuss this story in ShowBiz Ireland Forums...