Wanna Be Paparazzi & Make Easy Money?
Email us your Celebrity Digital Photos and Videos... There could be a fortune sitting in your mobile handset. If you snapped it then send it to us at:
Very. Important. Pictures.
18-07-03 news EXCLUSIVE PHOTOS
12 Month Review in Photos Part 2...
Here is the second part of ShowBiz Ireland's Review of the last 12 months, it just gets better!
Guess who we spotted strolling through St. Stephen's Green? None other than Bill the Butcher from Gangs of New York, Daniel Day-Lewis.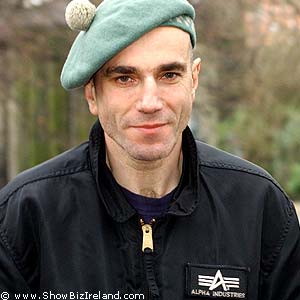 Daniel goes all highlander in Dublin
A-list celebrities turned out for the Gangs of New York Premiere in Dublin including Hollywood heartthrob Leonardo DiCaprio, even the U2 boys turned up to chomp down popcorn with the stars.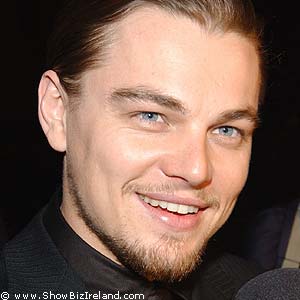 Leonardo DiCaprio at the Gangs Premiere
The Edge joined top Super Models and other A-list celebrities on the catwalk at the Brown Thomas International Fashion Show.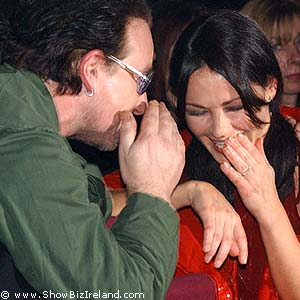 Bono jokes with Sharon Corr at The BT fashion show
Roy Keane would have been proud of Keith Duffy's Allstars at the weekend as they took on Sky1's Dream Team and battled and scrapped as if they were playing for Ireland!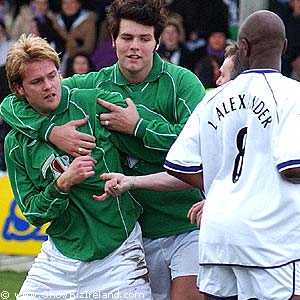 Nicky says "Hold me back Bryan"
Hellraising hardman and Oasis lead singer Liam Gallagher showed off his new set of Pearly White teeth in Dublin after appearing on RTE's Late Late Show. Liam lost his two best assets after a bar brawl in Germany.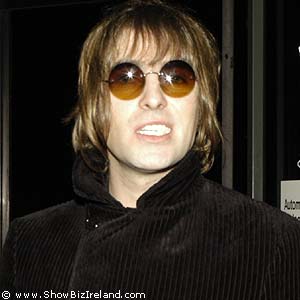 Liam's new Pearly Whites
The insane guys from MTV's Jackass totally trashed themselves and everything else in their wake when they played Vicar Street. They also had such a good time at the Premiere of their movie that Party Boy stuck around for 3 months!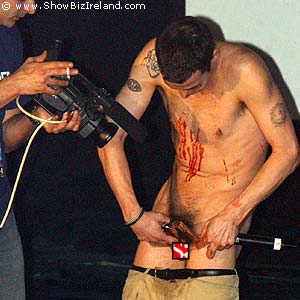 Steve-o staples his nuts in Vicar Street
Sexy Aussie Kylie Minogue was in Dublin staying at U2's Clarence Hotel, the little star was in to record new material...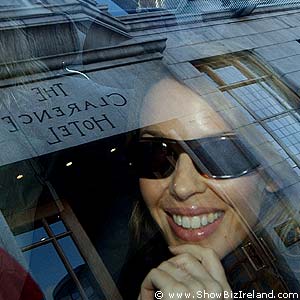 Kylie leaves U2's Clarence Hotel
Forget Oscars and Golden Globes Irish actor Colin Farrell received the ultimate ShowBiz accolade - a Kebab Gold Card!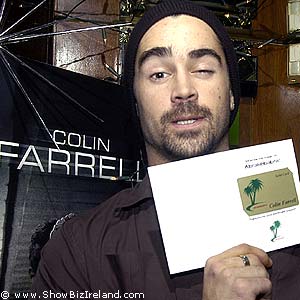 Colin Farrell gets Kebab Gold card
Angsty teenager Avril Lavigne played Dublin's Point Theatre, tickets were like Gold-dust - the young 'skater chic' showed her appreciation with a special Tee Shirt...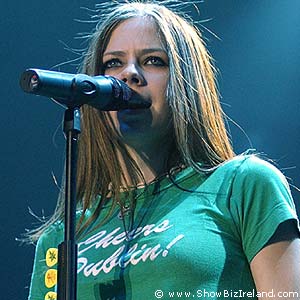 Avril Lavigne onstage at the Point Theatre
Talk about ShowBiz legends - Dublin saw two of the biggest names on the globe, Robert De Niro and Bono, out on the town together!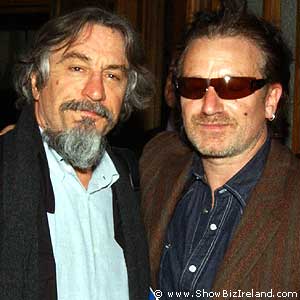 De Niro and Bono
Knighted Irish actor Sir Michael Gambon and Michael Caine appear together in the Dublin based movie The Actors.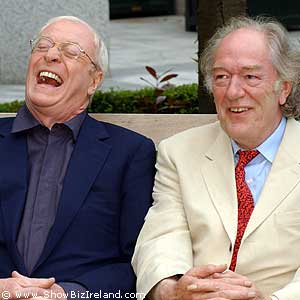 Michael Gambon (L) with Michael Caine recently
Dublin was crazy with journalists and photographers running around trying to track down the illusive Justin Timberlake who was out partying in the city.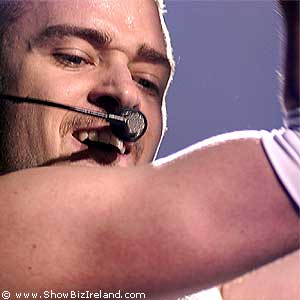 Justin Timberlake in Dublin
Celebrities are like buses in Dublin, you wait for ages for one to come along and then tones of them turn up at once! The Special Olympics Summer Games came to town...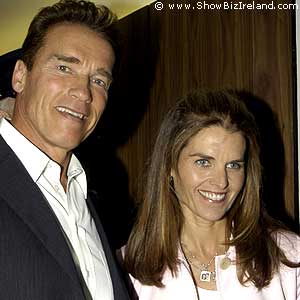 Arnold Schwarzenegger and wife Maria Kennedy Shriver
Colin Farrell must be clocking up some major air miles as hops between Dublin, London and LA. The star was in town partying hard at the Veronica Guerin World Premiere.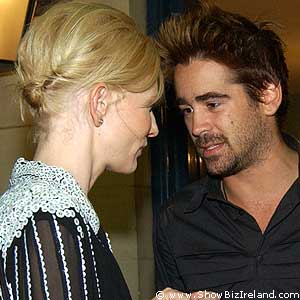 Cate Blanchett & Colin Farrell at party
Well that was a short look at the last 12 months of ShowBiz Ireland, I hope you enjoyed it as much as we did... Here's to another 12 crazy months!
If you would like to discuss this story please do so here in ShowBiz Ireland's Forums...