Wanna Be Paparazzi & Make Easy Money?
Email us your Celebrity Digital Photos and Videos... There could be a fortune sitting in your mobile handset. If you snapped it then send it to us at:
Very. Important. Pictures.
15-07-03 news EXCLUSIVE PHOTOS
Ronan & Keith Still a Feudin'...
The long standing feud between ex-Boyzoners Ronan Keating and Keith Duffy came to a head last week when the two former friends came head to head at the Veronica Guerin Premiere.
Ronan keating and Keith Duffy have been at logger heads recently due to Ronan's refusal to reunite with his Boyzone bandmates for a reunion tour.
Things got heated up to boiling point at after the Premiere of the Veronica Guerin movie when the two boyz found themselves in close proximity in Renards nightclub.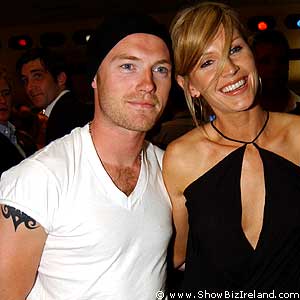 Ronan Keating & wife Yvonne at the Premiere
According to reports Keith's close pal and hellraiser Colin Farrell had to stop things from getting out of hand between the two.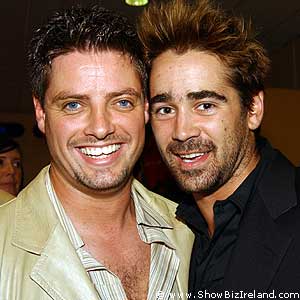 Colin Farrell and Keith Duffy at the Premiere
But that didn't stop the lads' better-halves from getting back together as both their spouses Lisa Duffy and Yvonne Keating danced the night away.
Well, we think it's about time Keith and Ronan kissed and made up... What do you think?
Discuss this storm in a tea cup in ShowBiz Ireland's Ronan Keating Forum...