Wanna Be Paparazzi & Make Easy Money?
Email us your Celebrity Digital Photos and Videos... There could be a fortune sitting in your mobile handset. If you snapped it then send it to us at:
Very. Important. Pictures.
21-07-00 news EXCLUSIVE
Flatley lashes out at Hollywood...
Ireland's favourite super-hoofer Michael Flatley has hit out at Hollywood in an exclusive interview with ShowBiz Ireland backstage during his show in Hungary. Flatley, who turned 42 last week, is in the final stages of his Feet of Flames tour and about to start work on his very first film project told ShowBiz Ireland that he wasn't mad on Hollywood.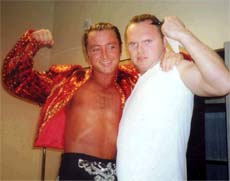 The Big Dogs: Flatley & Jason O'Callaghan (ShowBiz Ireland) flex backstage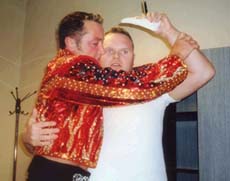 But who's leading who?
"I don't like the way they do business out in Hollywood, " he said. "I've written part of the movie myself and part will be shot in Ireland with filming starting at the end of August but for the moment this is it just one movie. I've got no plans to move into movies full time."
Flatley also confirmed that he had already cast a leading lady in the movie who is a well known actress but refused to say who the actress was.
"We have picked a leading lady but I can't say who it is just yet. But, she is very well known." Flatley's concert in Budapest, Hungary was his third last of this tour. He is due to play Berlin on Saturday. Then following that he will go in the footsteps of Elton John and Pavorotti and perform at the end of the month in Stormount - The Northern Ireland Parliament.
The dancer is however quick to say that this concert has no political agenda. "The show will be for 15,000 people on July 29 but it's in no way aimed at the peace process. I'm a dancer, a businessman and an artist. Not a politician or a sex symbol."
READ ABOUT FLATLEY'S NEW LOVE ON SHOWBIZIRELAND.COM TOMORROW WITH EXCLUSIVE PHOTO'S OF FLATLEY'S SHOW AND THE NEW WOMAN IN HIS LIFE.