Wanna Be Paparazzi & Make Easy Money?
Email us your Celebrity Digital Photos and Videos... There could be a fortune sitting in your mobile handset. If you snapped it then send it to us at:
Very. Important. Pictures.
31-01-05 news EXCLUSIVE WITH PHOTOS
Childline A Massive Success...
There must be vast amounts of pressure on the organisers of the annual Cheerios Childline concert to book top acts from the Pop World each year but time-after-time they manage to pull it out of the bag...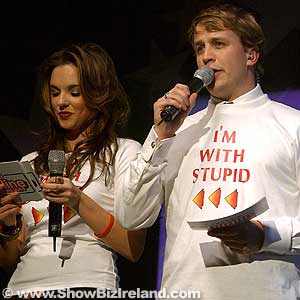 CHILDLINE: KIAN EGAN & JODI ALBERT
Childline is probably in the top-five media events of year in Ireland - it just goes without saying that there is going to be a fantastic celebrity turnout.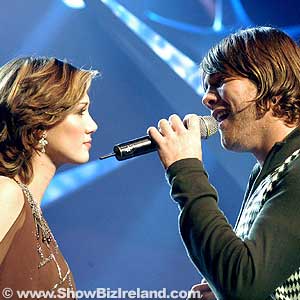 CHILDLINE: BRIAN MCFADDEN & DELTA GOODREM
And this year there was the added treat of having Brian McFadden on the same bill as his former band mates Westlife and his new love Delta Goodrem in front of a potentially harsh crowd...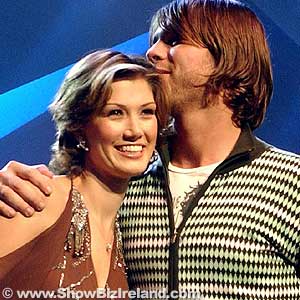 CHILDLINE: BRIAN MCFADDEN & DELTA GOODREM
And although people are saying Delta got booed off-the-stage we can tell you that there were a few boos and hisses but that was mostly drowned out by a majority of cheering.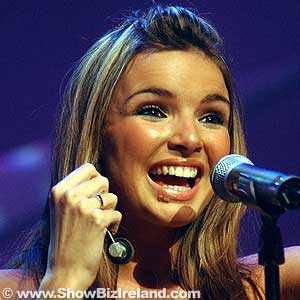 CHILDLINE: NADINE COYLE
And for us Brian and Delta's performance was probably the best part of the show as this talented couple were among the few acts actually singing live!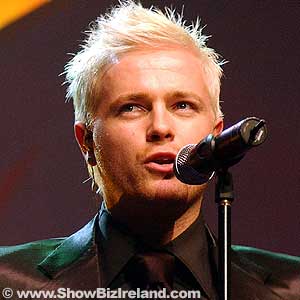 CHILDLINE: NICKY BYRNE
Other things noteworthy of gossip at the marathon show, hosted by Kian (cheesy T-shirt) Egan and girlfriend Jodi (jobs for the boys) Albert, was Nadine Coyle from Girls Aloud refusing to come out for the photocall as she had a cold-sore on her lip...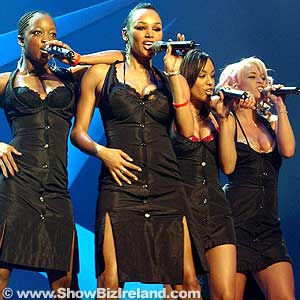 CHILDLINE: THE 411
Luckily our long lenses solved that problem! But come on Nadine you're still better looking than 99.999% of other popstars - cold-sore or not!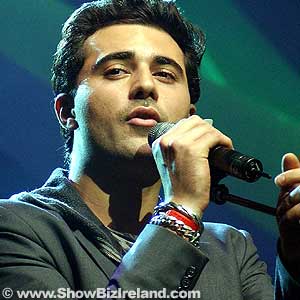 CHILDLINE: DARIUS
Oh, Westlife hunk Nicky Byrne seems to have taken a leaf out of fellow band member Mark's book by going for the bleach-blonde look. Maybe he should have put some of that hair-dye on his ginger beard aswell?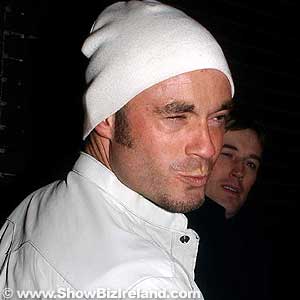 LILLIES BORDELLO: FRAN COSGRAVE
The afterparty took place in Lillies Bordello (no prizes for guessing that one) where the likes of Fran Cosgrave, Samantha Mumba, Zoo, D-Side, The 411, Girls Aloud, Sweet*T, and many more from the show gathered for the traditional knees-up.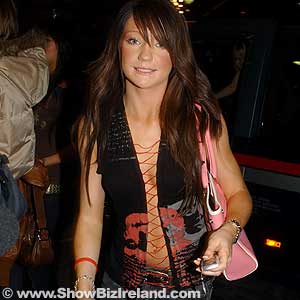 LILLIES BORDELLO: NICOLA ROBERTS
We wonder if any new celebrity couplings took place behind the hallowed doors of the celebrity club?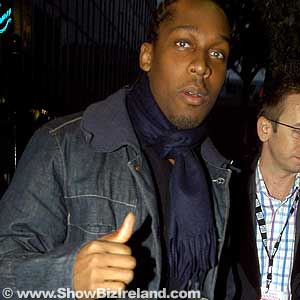 LILLIES BORDELLO: LEMAR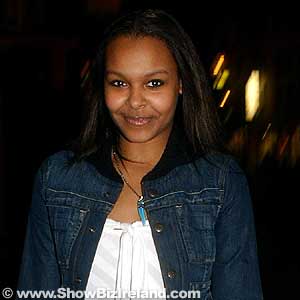 LILLIES BORDELLO: SAMANTHA MUMBA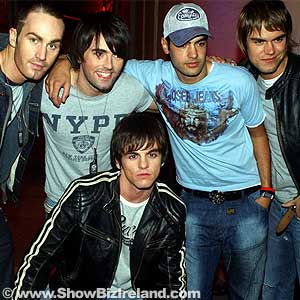 LILLIES BORDELLO: ZOO
Discuss this story in ShowBiz Ireland Forums...