Wanna Be Paparazzi & Make Easy Money?
Email us your Celebrity Digital Photos and Videos... There could be a fortune sitting in your mobile handset. If you snapped it then send it to us at:
Very. Important. Pictures.
18-01-05 news EXCLUSIVE WITH PHOTOS
Has Lee Married in South Africa?
Former hunky boyband Blue member Lee Ryan was spotted down in South Africa last week with his girlfriend Stefanie Martinez wearing Wedding bands - so have they tied the knot?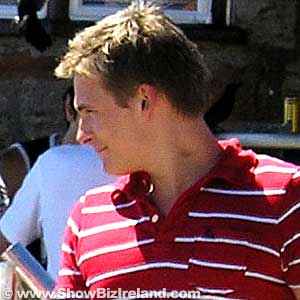 LEE RYAN IN SOUTH AFRICA
The eyes and ears of ShowBiz Ireland are far reaching but even by our standards getting photos of Lee Ryan and his girlfriend, model Stefanie Martinez, on holiday in Cape Town in South Africa is a bit of a scoop for us...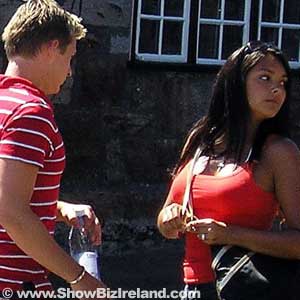 LEE RYAN & STEFANIE MARTINEZ IN SOUTH AFRICA
Particularly as it seems from the photos that Stefanie is wearing a wedding band on the wedding finger of her left hand and according to our source on top of Table Mountain, where the couple were having a picnic, Lee was also wearing a similar ring.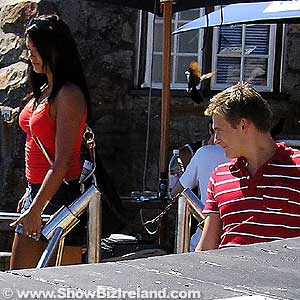 LEE RYAN & STEFANIE MARTINEZ IN SOUTH AFRICA
Not too long ago it was reported that Lee had announced to friends in London's Funky Buddha nightclub that Stefanie and he had got engaged - a story that he quickly denied in the media.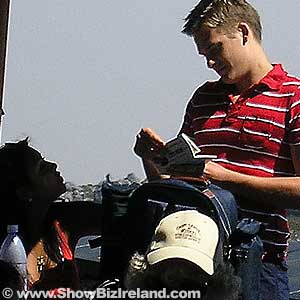 LEE RYAN & STEFANIE MARTINEZ IN SOUTH AFRICA
But just by chance last week one of ShowBiz Ireland's avid readers spotted the two love birds in South Africa and decided to take a few snaps!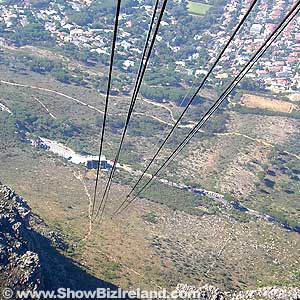 THE VIEW FROM TABLE MOUNTAIN
And the three things our reader was very insistent on was: 1. Lee had a big hickey on his neck, 2. the couple looked very much in love and, 3. both were wearing wedding bands...
Well we think it looks like a wedding band on Stefanie's finger but what do you think? If you have any info on the marital status of Lee and Stefanie please let us know...
Discuss this story in ShowBiz Ireland Forums...