Wanna Be Paparazzi & Make Easy Money?
Email us your Celebrity Digital Photos and Videos... There could be a fortune sitting in your mobile handset. If you snapped it then send it to us at:
Very. Important. Pictures.
30-01-03 news EXCLUSIVE PHOTO
Peter O'Toole Turns Down Oscar...
Irish actor Peter O'Toole has amazingly turned down the Oscar organisers to defer presenting him with an honorary Oscar until he is 80!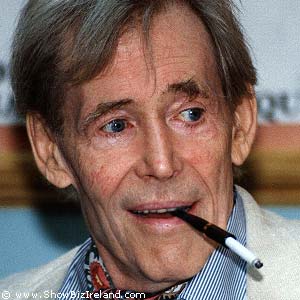 Peter O'Toole
It was announced last week that the Academy were going to present an honorary statuette to the 70 year old. In a letter O'Toole told the organisers: "enchanted by the honorary award, as I am still in the game and might win the lovely thing outright, would the Academy please defer the honour until I am 80?"
Oscars president Frank Pierson told O'Toole: " The award is for achievement not retirement".
He named other actors including Paul Newman and Henry Fonda who have won competitive gongs after an honorary one.
"We will have the Oscar for him and if he cares to pick it up, that would be great."
Pierson went on, "it would be great if he decides to change his mind and join us."
Pierson sent a letter to the actor saying, "The board unanimously and enthusiastically voted you the honorary award because you've earned and deserved it... As to being 'in the game,' nobody ever thought you were out of it. The award is for achievement and contribution to the art of the motion picture, not for retirement Pierson contested another aspect of O'Toole's letter. Peter wrote that "the board of the Academy had informal talks with my agent, during which conversations the subject of the Academy having it in mind to award me an honorary Oscar was presented."
The Academy president told Daily Variety that there were no informal talks, "we don't negotiate and it's not contingent upon anyone appearing."
In the past, winning actors such as Marlon Brando have refused the Oscar, but no honorary winner has ever declined the prize.
Academy executive director Bruce Davis said there will be a statuette at the March 23rd ceremony, and if O'Toole decides not to attend, it will go into the Academy's vault.
Pierson's letter told O'Toole, the statuette "will be at the Academy for you to pick up when you're 80 or whenever you're ready."
Go on Peter!