Wanna Be Paparazzi & Make Easy Money?
Email us your Celebrity Digital Photos and Videos... There could be a fortune sitting in your mobile handset. If you snapped it then send it to us at:
Very. Important. Pictures.
02-02-06 news EXCLUSIVE WITH PHOTOS
Stringfellows Handbags & Gladrags...
King of Strip Clubs Peter Stringfellow must have a big smile on his face today - the launch of his new venue in Dublin got most of the Irish front-pages. but not for the reason you might think...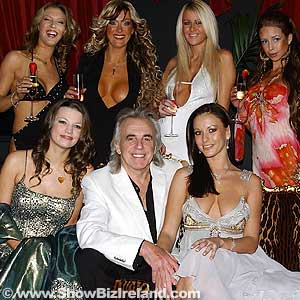 PETER STRINGFELLOW & GIRLS @ STRINGFELLOWS DUBLIN
ShowBiz Ireland was first in-line last night as Peter Stringfellow opened the hallowed doors to his first Irish Strip Club, located on Parnell Street on the north-side of the city.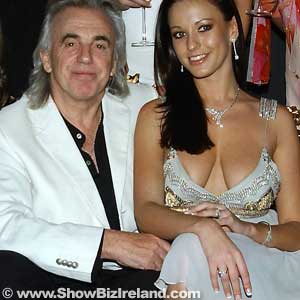 PETER STRINGFELLOW & FIANCEE BELLA WRIGHT @ STRINGFELLOWS DUBLIN
And with his stunning 23-year-old Fiancee Bella Wright by his side Peter was very much the seasoned professional as he ushered his 100 girls and equal amounts of the media around the club.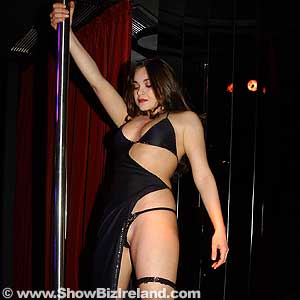 STRIPPER @ STRINGFELLOWS DUBLIN
We have to confess that Stringfellows is everything you imagine it would be; the girls are amazing and really do remove everything (barring stilettos of course!), the venue is plush and well designed, and the staff are polite and very professional.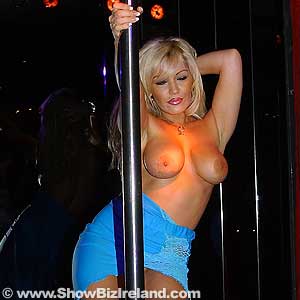 STRIPPER @ STRINGFELLOWS DUBLIN
Whether such a club will be a success in Ireland is another issue, from what we saw most punters were slow to part with 30 Euros for a naked dance at the start , but as the alcohol flowed more and more guys plucked up the courage to pick out their fantasy babe from the 100 on show...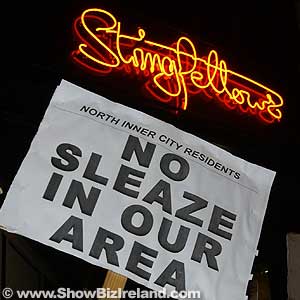 PROTESTORS @ STRINGFELLOWS DUBLIN
But the real problem Peter faces is the local inner city residents who object to the club being on their doorstep and staged a protest outside the doors screaming abuse at those who entered and left the club.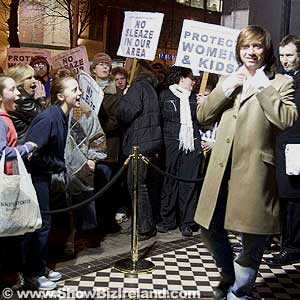 RAY SENIOR LEAVING STRINGFELLOWS DUBLIN
Which was a bit of a surprise to ShowBiz Ireland's editor Ray Senior who left Stringfellows to chants of "Shame on You, Shame on You..." In Ray's defence it's his job to cover events such as these - Scouts Honour!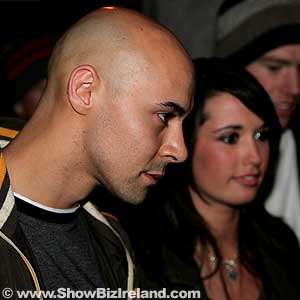 RAY SHAH LEAVING STRINGFELLOWS DUBLIN
Former Big Brother contestant Ray Shah also left the venue to abusive chants - we reckon our Ray was totally oblivious to the protestors and still dreaming of the beautiful babes that surrounded him just minutes before!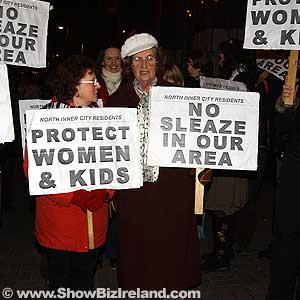 PROTESTORS @ STRINGFELLOWS DUBLIN
We at ShowBiz Ireland have yet to make our minds up whether Stringfellows is a good or bad addition to Dublin's nightlife - perhaps after a couple more visits we'll have a more informed opinion. Ahem...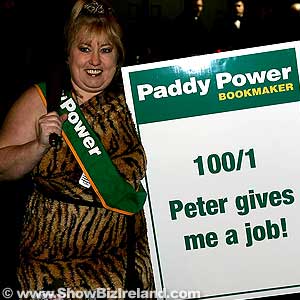 PROTESTOR @ STRINGFELLOWS DUBLIN
Discuss this story in ShowBiz Ireland's Forums