Wanna Be Paparazzi & Make Easy Money?
Email us your Celebrity Digital Photos and Videos... There could be a fortune sitting in your mobile handset. If you snapped it then send it to us at:
Very. Important. Pictures.
11-02-05 news EXCLUSIVE WITH PHOTOS
Keith Duffy Gets the Snip...
Former Boyzone hunk Keith Duffy stopped off at his mate's new barber shop this week to look his best before facing the press, after leaving Coronation Street, at the I, Keano premiere...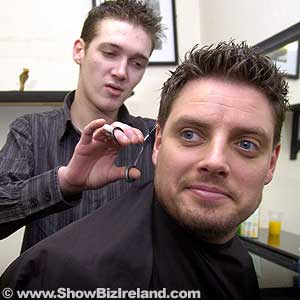 KEITH DUFFY @ J's BARBERS
Things looked bleak for Keith Duffy after Boyzone split up as he didn't really have the voice or the dance moves to make it in the Pop industry - but luckily an offer came in for a role in Coronation Street and suddenly his ShowBiz career had a new lease-of-life.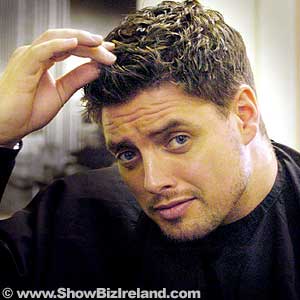 KEITH DUFFY @ J's BARBERS
Two-and-a-half years later the 30 year old has decided to call-it-a-day on Corrie as he wants to spend more time with his family and in particular his autistic daughter Mia.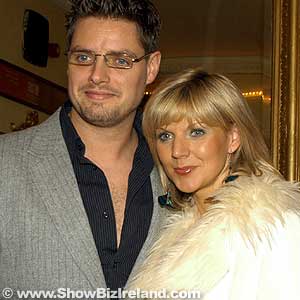 KEITH DUFFY & WIFE @ I, KEANO
This week we caught-up with Keith as he prepared to look his best for the opening night of the I, Keano play by stopping off at his mate James Hickey's new Barber Shop (called J's) on Dame Street.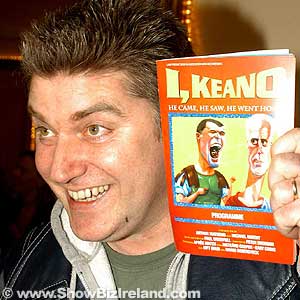 PAT SHORTT @ I, KEANO
And although Roy Keane and the rest of the Irish Soccer Squad didn't show up at the opening night of the hilarious play Keith and a host of other Irish celebs filled the seats at The Olympia Theatre.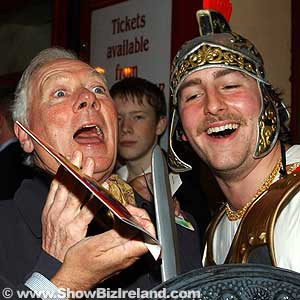 GAY BYRNE @ I, KEANO
The controversial play, which is subtitled: "He Came - He Saw - He Went Home," is loosely based on the row between Roy Keane and Mick McCarthy at the 2002 World Cup at their base in Saipan - the producers insist that any likeness to real people is "purely coincidental."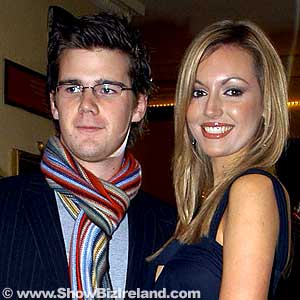 ROSANNA DAVISON & BOYFRIEND @ I, KEANO
But with Characters called things like Macartacus, Quinnus and Packie Bonnerus and a squeaky Dolphin symbolizing Sir Alex Ferguson, who do they think they're kidding?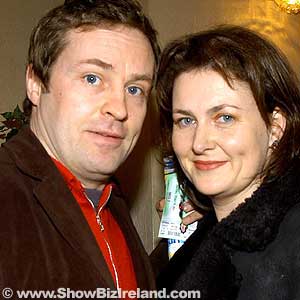 ARDAL O'HANLON & WIFE @ I, KEANO
And it may be 3 years since the row which polarised the Irish people but it seems this "Epic Musical" has got everyone talking about the bust-up again, so-much-so the play has been given an extended run for an extra two weeks.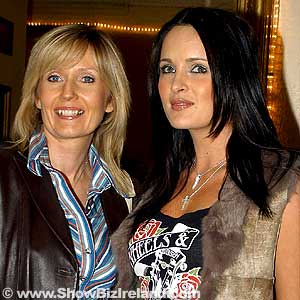 ANITA MANSFILD & ANDREA ROCHE @ I, KEANO
Well, whatever your stance on the Roy / Mick standoff if you get your hands on a set of tickets to I, Keano grab them! Even if it's just to hear Roy sing "I Told You So" and "The Muppet Show."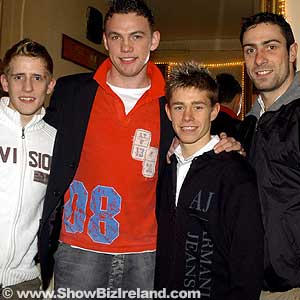 IRISH BOXING TEAM @ I, KEANO
Stars who turned up at the I, Keano Premiere included Jim Sheridan, Keith Duffy, Ardal O'Hanlon, Rosanna Davison, Gay Byrne, Andrea Roche, The Irish Rugby Team, The Irish Boxing Team, Linda Martin and many, many more...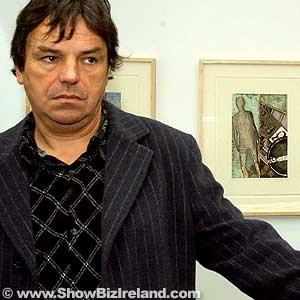 NEIL JORDAN @ JASPER JOHNS EXHIBITION
Meanwhile, as the rest of Ireland's celebrities were rolling in the aisles laughing poor old Neil Jordan was at an Art Exhibition in the Irish Museum of Modern Art looking decidedly bored...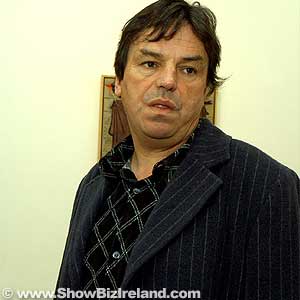 NEIL JORDAN @ JASPER JOHNS EXHIBITION
Neil's jaded body language was almost Chaplan-esque as the curator guided him through the many Jasper Johns paintings on show at the first major exhibition of the American artist's work in Ireland...
Come on Neil, giz a smile!
Discuss this story in ShowBiz Ireland Forums...