Wanna Be Paparazzi & Make Easy Money?
Email us your Celebrity Digital Photos and Videos... There could be a fortune sitting in your mobile handset. If you snapped it then send it to us at:
Very. Important. Pictures.
03-02-05 news EXCLUSIVE WITH PHOTOS
Brigitte Gets DIGGIDY in Dublin...
Fresh from her claustrophobic stay in the Celebrity Big Brother House Danish giant Brigitte Nielsen brought her Italian boyfriend and "DIGGIDY" catch-phrase to Dublin city...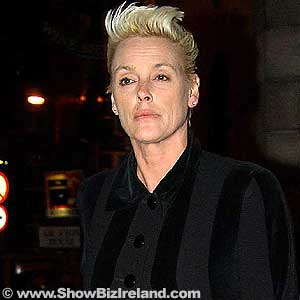 BRIGITTE NIELSEN @ THE WESTBURY
It says a lot about just how barmy this year's celebrity Big Brother contestants were, when a highly eccentric and outrageous woman like Brigitte Nielsen came across as quiet and mild while staying in the house...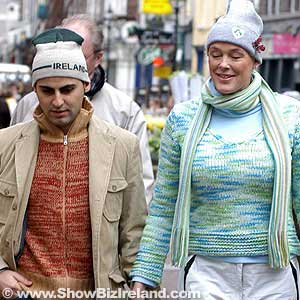 BRIGITTE NIELSEN & BOYFRIEND @ BRUXELLES
And when you consider just how nutty she was on last Friday's Late Late Show - when she made Pat Kenny cross-dress shoes and visibly sweat as she flaunted her long legs across him, imagine how mad the rest of them must be?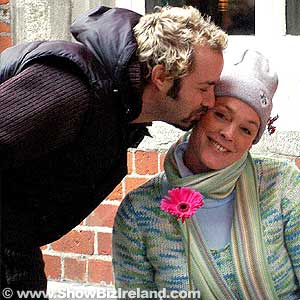 BRIGITTE NIELSEN GETS A KISS @ BRUXELLES
Granted Brigitte seemed a little emotional on the show as she had just got news that her nine-year-old boy was seriously ill - but for the first time ever we actually felt sorry for poor old Pat Kenny!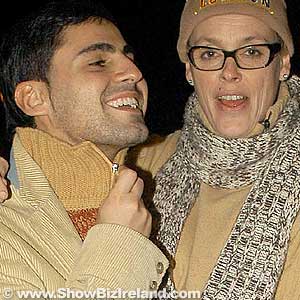 BRIGITTE NIELSEN & BOYFRIEND @ ACAPULCO
Married 3 or 4 times Brigitte was in Dublin with her very much younger Italian boyfriend, they stayed in the Westbury Hotel and were spotted in various bars and cafes around the city looking full of romance...
But for Brig's Italian lover there was a lot of Irish charm to fend off - at one stage outside Bruxelles Bar a handsome Dublin male gave the former Mrs Stallone a flower and a kiss, to her visible delight.
But amid rumours that they had a fallout over all the male attention when we spotted the couple leaving Acapulco Mexican Restaurant on George's Street they seemed very much in love...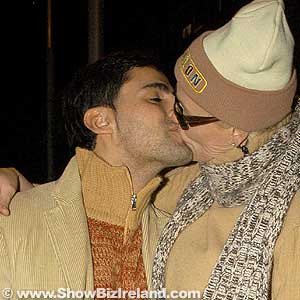 BRIGITTE NIELSEN & BOYFRIEND @ ACAPULCO
They even posed having a kiss, Ahhhh!
Discuss this story in ShowBiz Ireland Forums...