Wanna Be Paparazzi & Make Easy Money?
Email us your Celebrity Digital Photos and Videos... There could be a fortune sitting in your mobile handset. If you snapped it then send it to us at:
Very. Important. Pictures.
02-02-05 news EXCLUSIVE WITH PHOTOS
American Idiot Gets INKED-UP...
Top US Punk-Rock band Green Day blasted their latest global smash American Idiot to a capacity crowd in The Point this week then stuck around Dublin to get inked-up...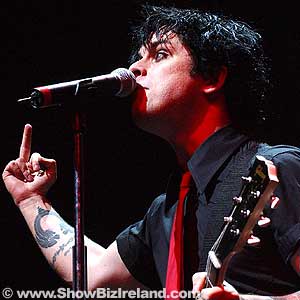 GREEN DAY PLAY THE POINT
Green Day's legendary live energy is something which has to be witnessed in person as their perpetual motion and sharp tunes are by anyone's standards mesmerizing.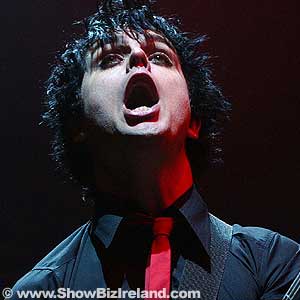 GREEN DAY PLAY THE POINT
When they played The Point this week, tickets were like hen's teeth and after experiencing their live show we now know why!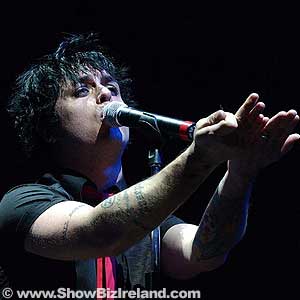 GREEN DAY PLAY THE POINT
Yesterday ShowBiz Ireland got a frantic tip-off by a young Green Day fan who saw their lead singer Billy Joe Armstrong entering a tattoo parlour in Temple Bar.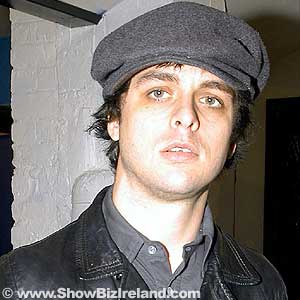 GREEN DAY PLAY THE POINT
And as we're based in the area we decided to drop down to Zulu Tattoo and sure enough we found the Green Day boys in the waiting room preparing to get inked-up with a film crew getting ready to capture the painful process.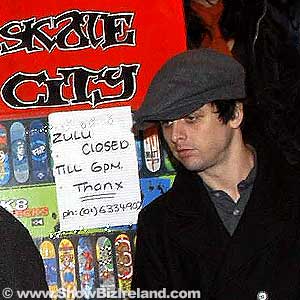 GREEN DAY PLAY THE POINT
When we asked if we could take some photos the camera man told us abruptly to "f*** off" but despite this good old Billy Joe posed for a picture or two...
And it seems the Green Day guys got some VIP treatment in the ink-seat as the shop closed its doors to the public until 6pm so there would be no interruption from fans.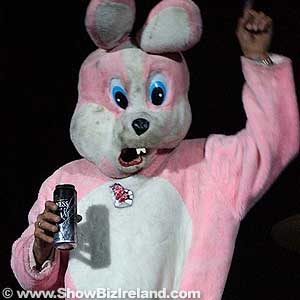 GREEN DAY PLAY THE POINT
But we still don't know what the Pink Guinness drinking Bunny was all about at their concert?
Discuss this story in ShowBiz Ireland Forums...