Wanna Be Paparazzi & Make Easy Money?
Email us your Celebrity Digital Photos and Videos... There could be a fortune sitting in your mobile handset. If you snapped it then send it to us at:
Very. Important. Pictures.
24-02-03 news EXCLUSIVE WITH PHOTOS
MTV Jackass Trashes Dublin...
The insane guys from MTV's Jackass totally trashed themselves and everything else in their wake when they played Vicar Street last night, beware the following isn't pretty...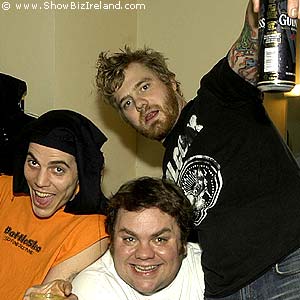 Steve-o, Preston, & Ryan Dunne in Vicar Street
Anyone attending last night's Jackass Live show in Vicar Street can be forgiven for not knowing what to expect from the gang of US daredevils - ShowBiz Ireland was also a tad tentative about attending the show.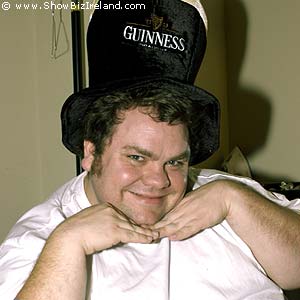 Preston in Vicar Street
Three of the regular cast from the MTV hit show, which has also been made into a big screen movie (opening this week in Ireland), included Steve-o, Preston, and Ryan Dunne.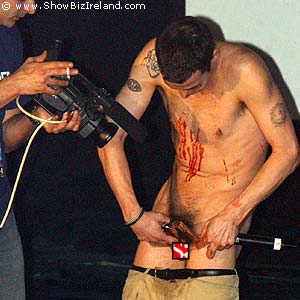 Steve-o staples his nuts in Vicar Street
The three-o gave the crowd more than they ever could of expected as the inflicted horrific acts of depravity on themselves after a day of drinking in capital city.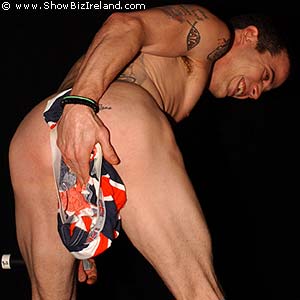 Steve-o pays respect to the Union Jack in Vicar Street
Apart from lots of vomit and blood on the stage some of the highlights included Steve-o stapling his scrotum to his leg, setting his hair on fire, wiping his naked backside with his Union Jack shorts while shouting "f*** the Queen", and not dying after jumping off the venue's upper balcony.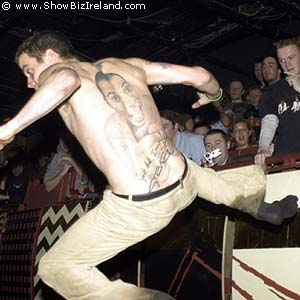 Steve-o jumps from the balcony in Vicar Street
ShowBiz Ireland got back stage with these Jackasses and the show just kept going... Steve-o attempted to hang himself with his belt from the light fitting causing untold amounts of damage to their dressing room.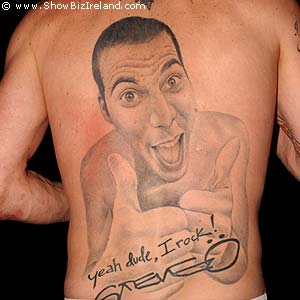 Steve-o's latest tattoo
The guys headed off into the night to Eamon Dorans late bar but our thoughts go out to the Vicar Street cleaners who face large amounts of bodily fluids to be mopped up before the venue can reopen...