Wanna Be Paparazzi & Make Easy Money?
Email us your Celebrity Digital Photos and Videos... There could be a fortune sitting in your mobile handset. If you snapped it then send it to us at:
Very. Important. Pictures.
22-02-02 news EXCLUSIVE WITH PHOTOS
Jodie has no time to Kidd around...
A large crowd gathered at St. Stephen's Green in Dublin yesterday, to see international supermodel Jodie Kidd launch the new Vodafone brand in Ireland.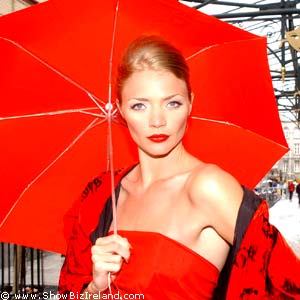 Jodie braves the rain and ShowBiz Ireland's Photographers in Dublin
Despite the drizzly rain the 23 year old beauty looked amazing, wrapped in a red cape made by Irish designer Ciaran Sweeney.
ShowBizIreland.com joined Jodie for lunch, where she explained exclusively to us, what a supermodel's life was like.
"It's good and it's bad, because it's tiring. But it's a job and everyone hates their job from time to time, but you do amazing things. The thing is with modelling, is that everyone sees that 1 minute you're going down the catwalk or, you know, the 10 minutes you're out on the street."
She added "I've been up since 5.30 this morning, going from Gatwick to Heathrow waiting at Heathrow, on another plane to Ireland. It's a lot of hard work to get to those 10 minutes that we're out there", she says, pointing towards Grafton Street.
In fact Jodie had just flown in from Barbados, where she was on another assignment, but she says she doesn't really complain.
"You get to travel to lovely places. I get to come to Dublin, I get to meet wonderful people, and get spoiled. It's great. This is the good part, when it's all over and you can relax!"
It's a wonder poor Jodie gets any time to relax, as she explained her hectic schedule to us.
"I'm off to England tonight. I've got to work tomorrow morning in London. Then off to Paris and then back to New York".
Oh the life of the jet-set!
Here are some Photos of the stunning Jodie: