Wanna Be Paparazzi & Make Easy Money?
Email us your Celebrity Digital Photos and Videos... There could be a fortune sitting in your mobile handset. If you snapped it then send it to us at:
Very. Important. Pictures.
13-12-06 news EXCLUSIVE WITH PHOTOS
Sheamus Bringing Ginger Back...
Irish Heavyweight grappler Sheamus O'Shaunessy is fast making big Wrestler shaped waves in the worlds of Sport Entertainment, he's even making it cool to be a Ginger...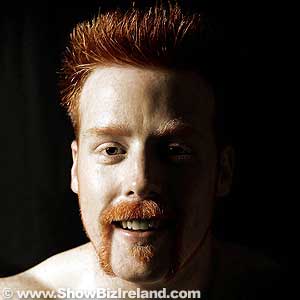 SHEAMUS O'SHAUNESSY: HE'S A GINGER GOD!
Always vigilant for the next-big-thing, ShowBiz Ireland has been backing Irish Wrestler Sheamus O'Shaunessy's rise to the top for about a year now. Why you may ask? Why Not we retort! Sure, he's the first cool carrot-top since Luke Kelly!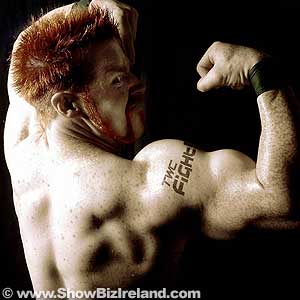 SHEAMUS O'SHAUNESSY WITH TWC FIGHT BRANDING
In our eight years of photographing every celebrity on these shores, and thus promoting them around the world, we reckon Mr. SOS will be the biggest thing to come from Ireland since, ehhhhh, Bono's ego? Maybe bigger...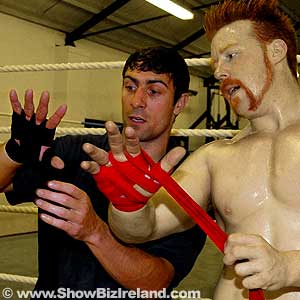 SHEAMUS O'SHAUNESSY & KENNETH EGAN
And-as-if-by-magic, Sheamus was recenly scouted out by the ONLY wrestling show there is: WWE Raw (they read these pages you know). Last month The Ginger One was in the ring in Manchester's MEN Arena staring down the barrel of a devastating Pedigree from Triple H.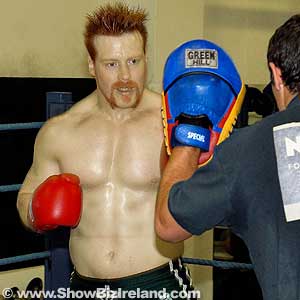 SHEAMUS O'SHAUNESSY & KENNETH EGAN
Considering that Monday Night's Raw is broadcast to about 400 Million people (we're guessing here) world-wide in probably every country there is, we think that's a good first step for the big fella...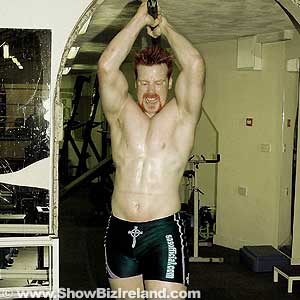 SHEAMUS O'SHAUNESSY AT THE NATIONAL STADIUM GYM
ShowBiz Ireland caught-up with Sheamus this month when he got in a spot of boxing training with six-times Irish Senior Boxing champion Kenneth Egan at the National Stadium Gym on South Circular Road.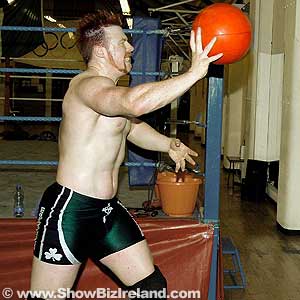 SHEAMUS O'SHAUNESSY AT THE NATIONAL STADIUM GYM
In his quest to stay nimble now that he's approaching the 20 Stone of raw muscle mark, Sheamus got some much needed tips off our current Light Heavyweight Boxing champ and probably Ireland's biggest hope for an Olympic Gold in Beijing 2008.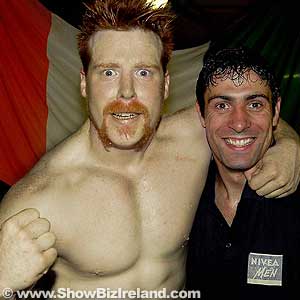 SHEAMUS O'SHAUNESSY & KENNETH EGAN
When we asked Kenneth about the type of training programme he had in store for SOS he joked: "Don't worry he'll be breathing through his arse by the time I'm finished with him!"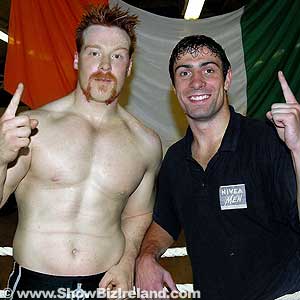 SHEAMUS O'SHAUNESSY & KENNETH EGAN
But he wasn't joking... Egan put Sheamus through a grueling 2 hour session which included cardio, sparring, bag work, a 20lb medicine ball, and beating the hell out of a tractor tyre with a solid iron pole!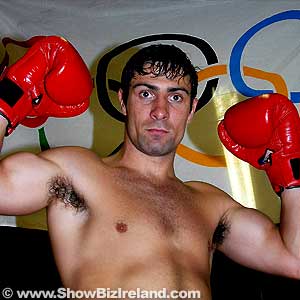 KENNETH EGAN AT THE NATIONAL STADIUM GYM
We were knackered just watching and considering Ken does that twice-a-day, whoever gets in the ring with him at the next Olympics had better have had at least 3 weetabix for breakfast!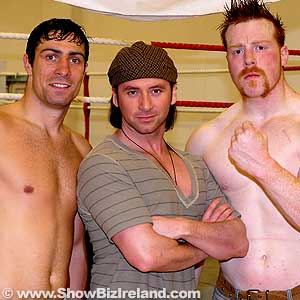 KENNETH EGAN, RAY SENIOR & SHEAMUS O'SHAUNESSY
The other big news in camp SOS is the massive Irishman has moved to London permanently after landing an official sponsorship deal with the Wrestling & Mixed Martial Arts dedicated TWC FIGHT Sky Digital Channel (www.twcfight.com). If you want more on SOS check out his website: www.sosofficial.com...
Discuss this story in ShowBiz Ireland's Forums