Wanna Be Paparazzi & Make Easy Money?
Email us your Celebrity Digital Photos and Videos... There could be a fortune sitting in your mobile handset. If you snapped it then send it to us at:
Very. Important. Pictures.
09-12-05 news EXCLUSIVE WITH PHOTOS
Manson's Irish Wedding Days...
Ultra-weird Rocker Marilyn Manson and his stunning Burlesque stripper girlfriend Dita Von Teese tied-the-knot in Ireland last weekend in typically gothic style...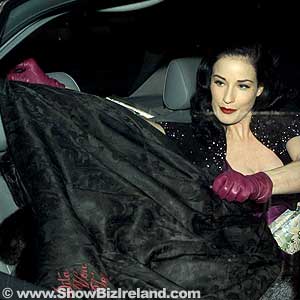 DITA VON TEESE & MARILYN MANSON IN FETHARD
When you're the strangest man on earth, and it comes to the setting for your big day, you are hardly going to go to the local chapel and have a traditional white wedding now are you?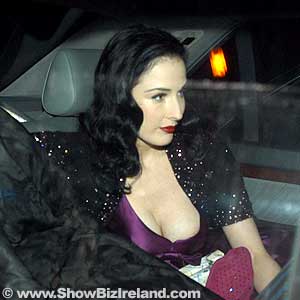 DITA VON TEESE & MARILYN MANSON IN FETHARD
Well Marilyn Manson went to great lengths to find a suitably scary setting for his Wedding to Dita, and you guessed it - he found the perfect location right here in little-old-Ireland!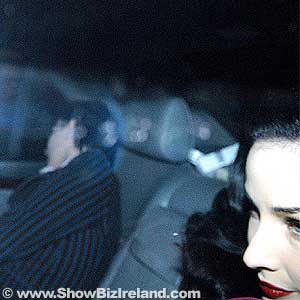 DITA VON TEESE & MARILYN MANSON IN FETHARD
Some of the world's most renowned horror writers have been Irish so we suppose there must be something spooky about this fair land when the lights go out? Marilyn chose Gottfried Helnwein's Castle Gurteen Le Poer in Co. Tipperary to exchange vows with his blushing bride.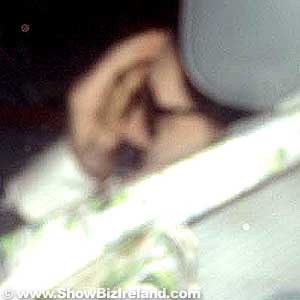 MARILYN MANSON IN FETHARD
And to tell the truth ShowBiz Ireland has known about this story for nearly a year but we had to sit-on-it for all this time to get the big scoop - unfortunately Mr. Manson used the cover of darkness to have his ceremony so we found it next to impossible to get any photos of them in the big gothic castle...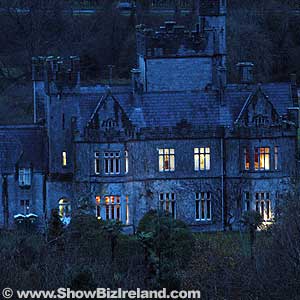 CASTLE GURTEEN LE POER, CO. TIPPERARY
But the following night Marilyn and his new bride, still in their Wedding clothes, headed to a local bar (and Undertakers!) called McCarthy's to take some photos in a traditional Irish setting...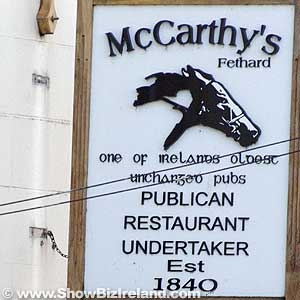 MCCARTY'S BAR IN FETHARD
But when the couple and their entourage arrived at the pub in Fethard and realised some of the locals were drinking in the bar, they refused to enter and instead headed back to Gottfried's big scary house.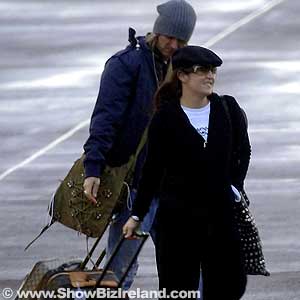 LISA MARIE PRESLEY @ CORK AIRPORT
Apparently Manson's assistant asked the bar owner to remove the locals from the bar so his guests and he could enjoy a traditional Irish night out, they didn't comply... Someone should have told Marilyn that an Irish bar without any Irish people is merely a bar with some junk on the walls!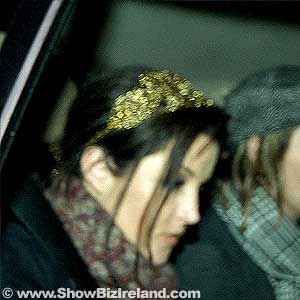 LISA MARIE PRESLEY IN FETHARD
And it seems chivalry isn't dead - when our photographer tried to get a picture of the loving couple in their car Dita threw her personally embroidered coat over Marilyn's head to protect him from our lenses, what a girl...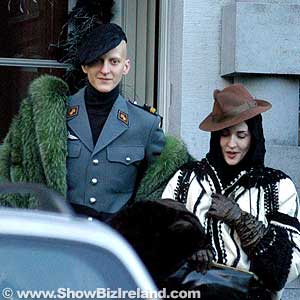 DITA VON TEESE & MARILYN MANSON'S WEDDING GUESTS
Rumours circulated that everyone from Ozzy Osbourne to Madonna were guests at the Wedding - apart from a few strangely dressed friends of Marilyn's the only celebrity we saw was Lisa Marie Presley who flew in via Cork airport.
CongratulationsMr. & Mrs. Manson...
Discuss this story in ShowBiz Ireland Forums...