Wanna Be Paparazzi & Make Easy Money?
Email us your Celebrity Digital Photos and Videos... There could be a fortune sitting in your mobile handset. If you snapped it then send it to us at:
Very. Important. Pictures.
08-12-05 news EXCLUSIVE WITH PHOTOS
Keith Conjures The Conways...
Spooky magician to-the-stars Keith Barry used his world renowned mind control tricks to persuade a plethora of stars, including The Conway Sisters, to attend the filming of his show this week...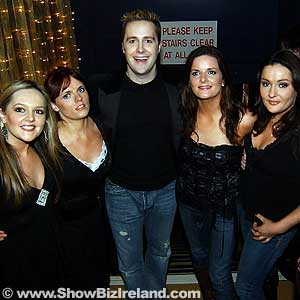 KEITH BARRY & THE CONWAY SISTERS @ SPIRIT
It seems hanging around Dublin celebrity haunts, such as Renards and Lillies Bordello, and performing off-the-cuff tricks for bob-smacked stars has really paid-off for magician Keith Barry.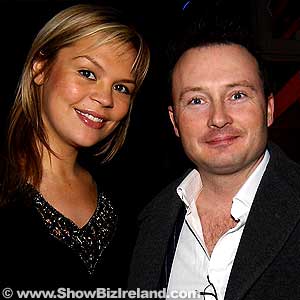 JIM CORR & GAYKE WILLIAMSON @ SPIRIT
For the past number of years if you happened to bump into the handsome conjurer on a night out, he always had a new trick-up-his-sleeve and never turned down an opportunity to entertain and amaze a famous face.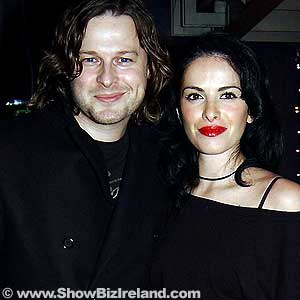 COLIN DEVLIN & SONIA MACARI @ SPIRIT
So much so that Keith has gained a sizeable celebrity following and has performed for some of the biggest stars on the planet - he even gained stardom in the USA after appearing on MTV's Brainwashed.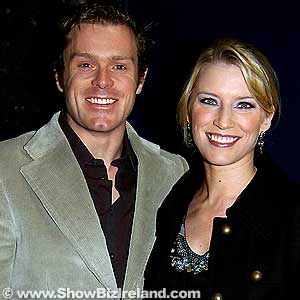 PAMELA FLOOD & MICHAEL SHARPE @ SPIRIT
ShowBiz Ireland caught up with Keith this week as he recorded his new RTE Show called "Keith Barry LIVE With Friends" in Spirit Nightclub.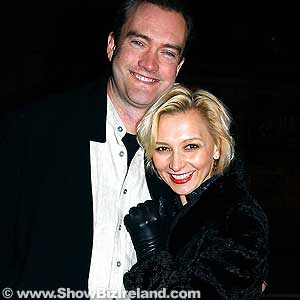 JOHN MOORE & TATIANNA OULIANKIA @ SPIRIT
And yes, when Keith refers to his "Friends" he is of course talking about his "Celebrity Friends," who turned out in large numbers to take part in his dazzling magic show.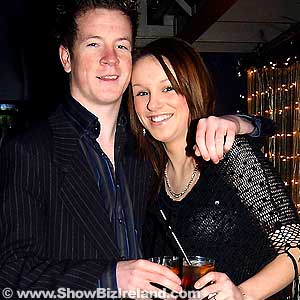 GEORGE MURPHY & CLAIRE TAYLOR @ SPIRIT
Those who attended included The Conway Sisters, Jim Corr and his fiancee Gayle Williamson, Singer Colin Devlin & Sonia Macari, Actress Tatianna Ouliankina & John Moore, Karla Elliott, TV Presenter Pamela Flood & Michael Sharpe, Singer George Murphy & Claire Taylor, Actor Liam Cunningham, model Glenda Gilson and many more...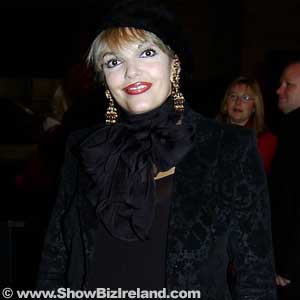 KARLA ELLIOTT @ SPIRIT
And speaking of celebrity rich events; Social & Personal Magazine had their annual Top 100 Party People Bash in Cafe En Seine in recent days.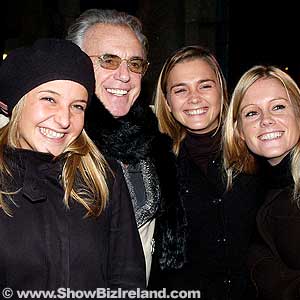 PETER STRINGFELLOW @ CAFE EN SEINE
And from what we hear Celebrity Love Island hunk Fran Cosgrave turned up at the event uninvited and got into a spot of bother with some of the revelers.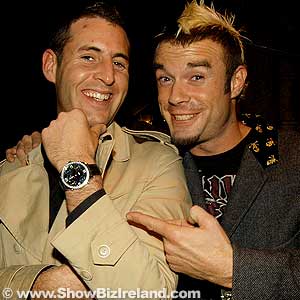 TREVOR MUSGRAVE & FRAN COSGRAVE @ CAFE EN SEINE
Perhaps our Fran was none-too-impressed he didn't make it on to the posh mag's much anticipated list? Well, we bet he does next year!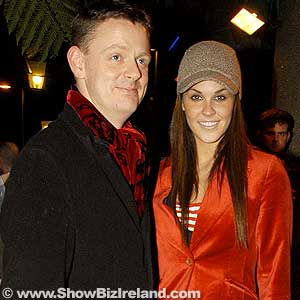 CIARAN SWEENEY & GLENDA GILSON @ CAFE EN SEINE
Another guest of note, at the Cafe En Seine bash, was Peter Stringfellow looking for more beautiful blondes to adorn the poles of his soon-to-open club in the Parnell Street area of the city...
Discuss this story in ShowBiz Ireland Forums...