Wanna Be Paparazzi & Make Easy Money?
Email us your Celebrity Digital Photos and Videos... There could be a fortune sitting in your mobile handset. If you snapped it then send it to us at:
Very. Important. Pictures.
06-12-04 news EXCLUSIVE WITH PHOTOS
Food & Travel Books for Xmas...
With Christmas looming over our heads it seems that celebrities are cashing-in with their new books launched just-in-time as sophisticated stocking fillers...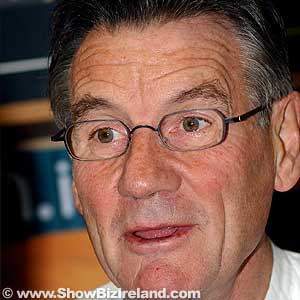 MICHAEL PALIN @ EASONS
It is the annual conundrum we all face at this time of year: What to get for the person who has everything? So cue your local celebrity who just happens to have a new book in the shops that will suit all tastes.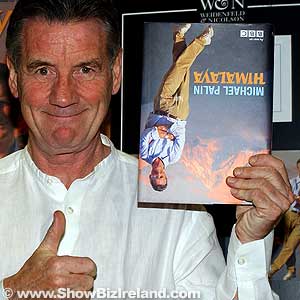 MICHAEL PALIN @ EASONS
We are of course referring to the two big names from the UK that were on a junket at the weekend in Dublin promoting their latest hardback offerings, Michael Palin and Nigella Lawson (yum!).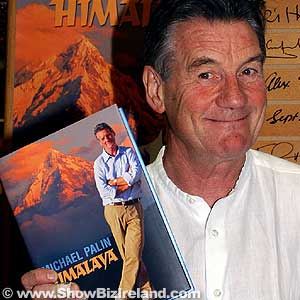 MICHAEL PALIN @ EASONS
Palin's new book, Himalaya, is based on his six-part TV series on visits to places such as Nepal and Katmandu and his encounters with the Dalai Lama. All interesting stuff but we'd rather if he'd reunited with his old chums and made more Monthy Python films...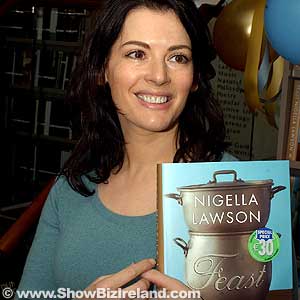 NIGELLA LAWSON @ DUBLIN BOOK STORE
Also showing off her wares at the weekend was the succulently sexy Nigella Lawson with a new book called Feast.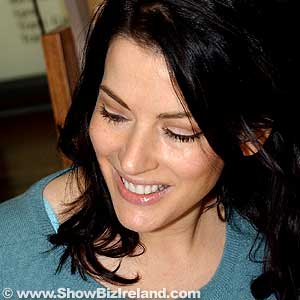 NIGELLA LAWSON @ DUBLIN BOOK STORE
The sultry beauty has filled her new cookbook with sumptuous treats (if you happen to be cooking for 8 people) and lots of photos of herself just in case you forgot how stunning she looks in the kitchen...
But here at ShowBiz Ireland we like to stick to the following doctrine of present buying: expensive smelling stuff for women and high tech gadgets for men... Always a winner!
Discuss this story in ShowBiz Ireland Forums...