Wanna Be Paparazzi & Make Easy Money?
Email us your Celebrity Digital Photos and Videos... There could be a fortune sitting in your mobile handset. If you snapped it then send it to us at:
Very. Important. Pictures.
23-08-06 news EXCLUSIVE WITH PHOTOS
The Tudors Set is Smoking...
The massive multi-million dollar production which is The Tudors took over famous Dublin landmark, Christ Church Cathedral, this week with Rhys Meyers and Co. in full period regalia...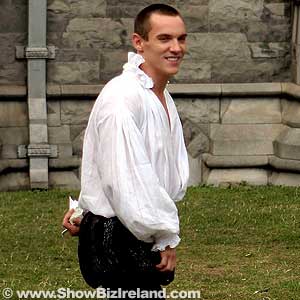 JONATHAN RHYS MEYERS ON THE TUDORS SET
Most days ShowBiz Ireland's photographers have to search high-and-low for celebrity scoops - so it was very nice this week to have the full cast and crew of The Tudors right on our doorstep.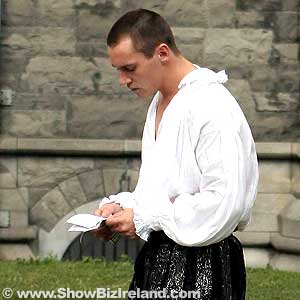 JONATHAN RHYS MEYERS ON THE TUDORS SET
On Monday and Tuesday this week Golden Globe winning actor Jonathan Rhys Meyers and 24 actor James Frain paced the grounds of the world renowned Cathedral learning their lines and chatting with members of the production crew.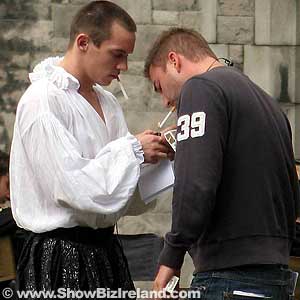 JONATHAN RHYS MEYERS ON THE TUDORS SET
And for anyone out there who wants to know what actors do to wind-down between scenes - from what we witnessed, they either have their mobile phones glued to their ears or a cigarette hanging out of their mouths!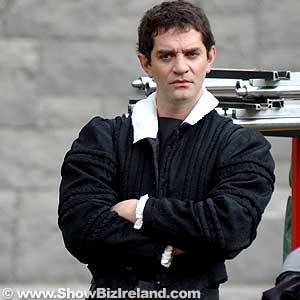 JAMES FRAIN ON THE TUDORS SET
Speaking of which, do a higher percentage of actors smoke when compared to other professions? It just occurred to us that most big name stars seem to have a nicotine habit - just a thought...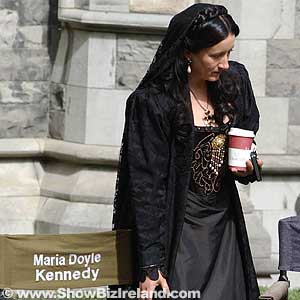 MARIA DOYLE KENNEDY ON THE TUDORS SET
The Tudors; made-for-US-TV production, focuses on the early years of King Henry VIII and his many marriages - if the series goes down well across the Atlantic it could mean regular work for the mainly Irish cast and crew.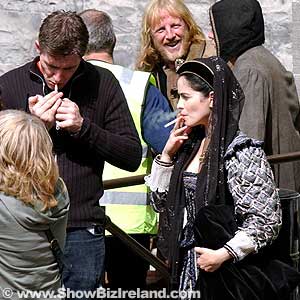 SONIA MACARI ON THE TUDORS SET
But in the cut-throat ratings driven television schedules in America most shows don't make it past their first or second season - so here's hoping that The Tudors will be making Dublin its home for the next five years!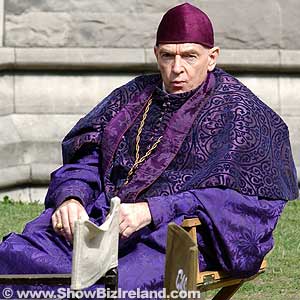 ACTOR ON THE TUDORS SET
Between scenes all of The Tudors actors and extras poured out of Christ Church and sat on the grass to chill out and get some fresh air in their elaborate period costumes.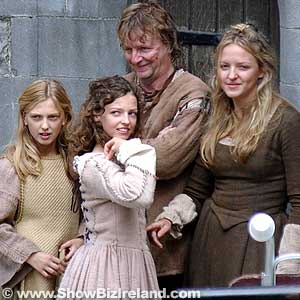 ACTORS ON THE TUDORS SET
Thousands of tourists gathered around the railings, over the two-day-shoot, and peered through at the strangely dressed characters as they scurried from scene-to-scene inside the ancient Church.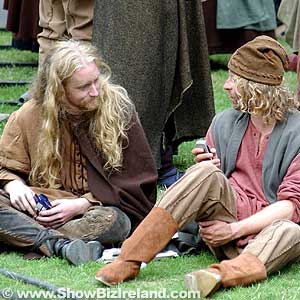 ACTORS ON THE TUDORS SET
Although most enjoyed the free preview of the TV movie some got very hot-under-the-collar after being barred from Dublin's top tourist attraction, some traveling tens of thousands miles to witness its majestic interiors...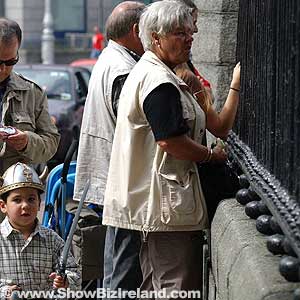 TOURISTS LOCKED OUT @ CHRIST CHURCH
Discuss this story in ShowBiz Ireland's Forums