Wanna Be Paparazzi & Make Easy Money?
Email us your Celebrity Digital Photos and Videos... There could be a fortune sitting in your mobile handset. If you snapped it then send it to us at:
Very. Important. Pictures.
09-08-06 news EXCLUSIVE WITH PHOTOS
SOS: WWELCOME To Eire!!!
Irish Wrestling Goliath Sheamus O'Shaunessy is really looking forward to his WWE Superstar counterparts visiting these shores in November, in fact he's biting-at-the-bit...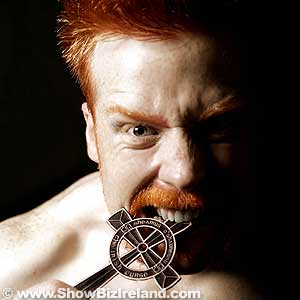 SHEAMUS O'SHAUNESSY
This coming November the WWE Raw Wrestling Road show comes to Ireland bringing some of the biggest names in sport entertainment to lift-the-roof-off The Point.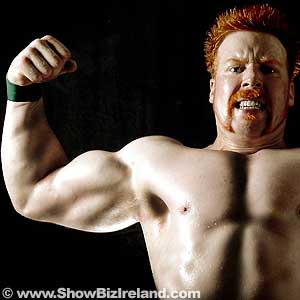 SHEAMUS O'SHAUNESSY
Sadly Ireland's own heavyweight champ, Sheamus O'Shaunessy - The Irish Curse, isn't on the rosta but standing at six-foot-six and nearly 20 stone of raw celtic muscle and sinew we can see why they're a little cautious of challenging our local lad. Would you??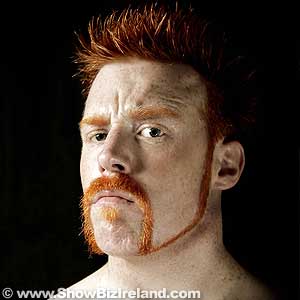 SHEAMUS O'SHAUNESSY
For the past six months ShowBiz Ireland has been following this Celtic Colossus via his website: www.sosofficial.com as he embarked on a journey to knock-seven-bells out of every Wrestler in the UK in Europe, he even landed a film role in the violent 3CROSSES movie.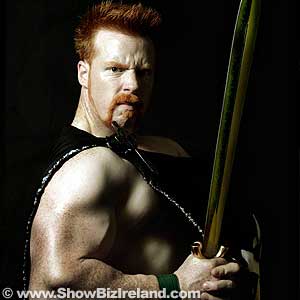 SHEAMUS O'SHAUNESSY
And with no one left on this side of the world to feel the power and might of his Fiery Red Hand all eyes must surely be fixed on the ginger haired warrior climbing the ranks of wrestling's biggest show - The WWE...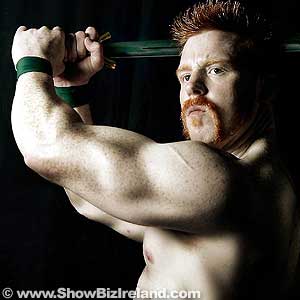 SHEAMUS O'SHAUNESSY
As with any new Irish faces trying to shake-it-up and potentially grasp the imagination of people around the world, ShowBiz Ireland is firmly behind SOS and you should be to! Click here to let these guys know all about our homegrown hero: www.wwe.com.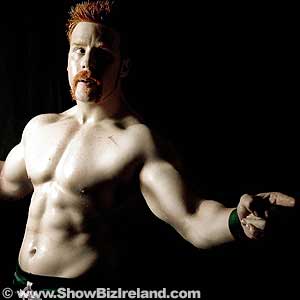 SHEAMUS O'SHAUNESSY
And don't just take our word for it. We put these photos to legendary Irish artist and celtic mythology illustrator Jim Fitzpatrick and he was totally blown away by his image and sheer size saying: " I wish Sheamus O'Shaunessy every success. If Finn McCool were reborn this is what I expect he would look like! He sure looks the part."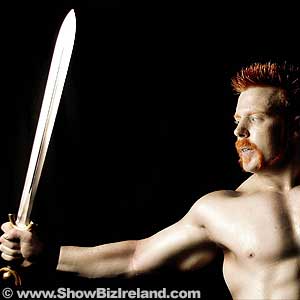 SHEAMUS O'SHAUNESSY
Well, best of luck Sheamo and we're sure the big-big-break is only around the corner. With a look that seems to define celticness and thus Irishness it's only a matter of time before Hollywood comes a knocking!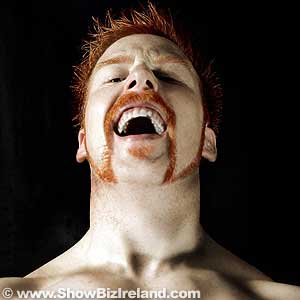 SHEAMUS O'SHAUNESSY
Discuss this story in ShowBiz Ireland's Forums