Wanna Be Paparazzi & Make Easy Money?
Email us your Celebrity Digital Photos and Videos... There could be a fortune sitting in your mobile handset. If you snapped it then send it to us at:
Very. Important. Pictures.
01-08-06 news EXCLUSIVE WITH PHOTOS
Mary & Lover Dine On Friday...
Ireland's utmost and perhaps only Avant-Garde performer Gavin Friday brought his theatrical performance, Tomorrow Belongs To Me, to Dublin last week and attracted some topical guests along to the show...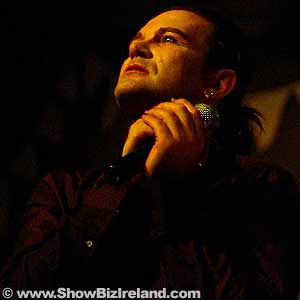 GAVIN FRIDAY @ LIBERTY HALL
We suppose that for as long as Gavin Friday exists in the public eye he will always be associated with his best mate Bono - ironically it's Gavin's on stage persona that inspired Bono's stadium leveling performances that have gained him world-wide renown.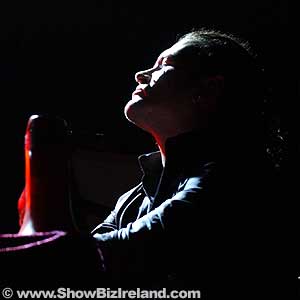 GAVIN FRIDAY @ LIBERTY HALL
For the first time in about three years, Mr. Friday stepped out into the lime-light once again with a show which is best described as a musical & visual tribute to 20th Century German Music, Art, Film and Literature covering a range of varied themes from German Expressionism to Electronica and the Gothic.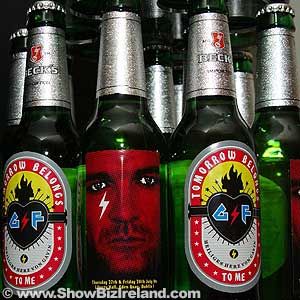 GAVIN FRIDAY @ LIBERTY HALL
And before we get all high-brow on ya (it's never gonna happen), ShowBiz Ireland was down at Gav's kaleidoscopic musical and visual journey basically sniffing around for some of his very famous friends...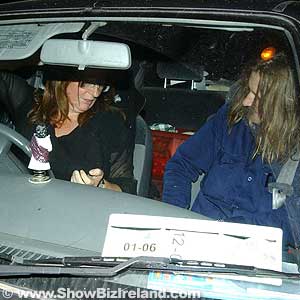 MARY COUGHLAN & BOYFRIEND @ LIBERTY HALL
And although we didn't stumble across a single U2 member or the odd Corr sister, we did catch sight of Irish singer Mary Coughlan with her new lover boy at the show.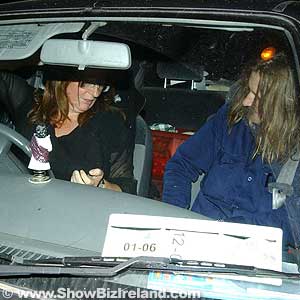 MARY COUGHLAN & BOYFRIEND @ LIBERTY HALL
Although a very talented singer, Mary is not the usual target for our finely tuned ShowBizzz lenses - but throw in a feud with Sinead O'Connor and a toyboy lover and we're totally on board!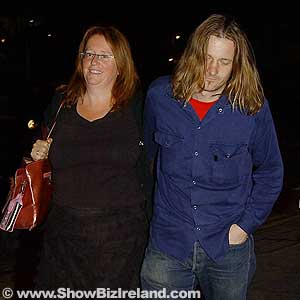 MARY COUGHLAN & BOYFRIEND @ LIBERTY HALL
So just to get you up-to-date... Apparently Sinead & Mary had a bit of a recent mobile text battle over a reported liaison between the Nothing Compares To You star and Mary's ex husband Frank.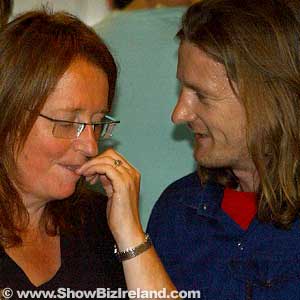 MARY COUGHLAN & BOYFRIEND @ LIBERTY HALL
If that wasn't enough, the two singers seemed to battle it out tit-for-tat in the Irish papers. Now, we don't really want to get involved here as this subject stinks of a legal mine-field and nobody likes a solicitor's letter. And so it goes, and so it goes...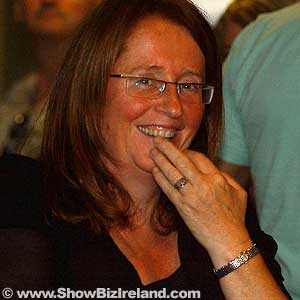 MARY COUGHLAN & BOYFRIEND @ LIBERTY HALL
Pressing on quickly, according to reports Mary has put all that behind her and found love again with a young handsome man from New Zealand...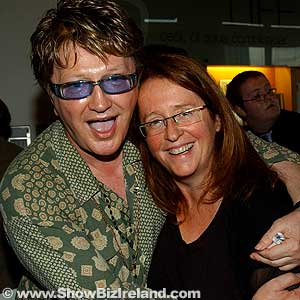 MARY COUGHLAN & MR PUSSY @ LIBERTY HALL
We don't know much about him other than he's a Kiwi and we think his name is John. But from the wry smile on Mary's face when we took these snaps it seems she's the cat that got the cream... Meow!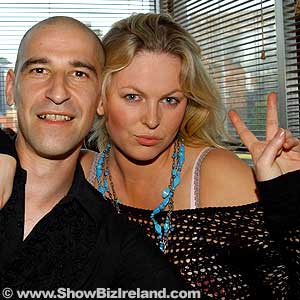 AMANDA BRUNKER & SHIMMY MARCUS @ LIBERTY HALL
A lady always in the papers and another guest of note, busty Amanda Brunker was doing her best Bono impression at Gav's pre show gathering. Amanda was accompanied by movie Director Shimmy Marcus and enjoying a night away from minding her newly born baby...
Discuss this story in ShowBiz Ireland's Forums