Wanna Be Paparazzi & Make Easy Money?
Email us your Celebrity Digital Photos and Videos... There could be a fortune sitting in your mobile handset. If you snapped it then send it to us at:
Very. Important. Pictures.
06-08-02 news WITH EXCLUSIVE PHOTOS
Mitchelstown Festival Review...
The Mitchelstown Guinness Music Festival saw some of Ireland's newest acts rub shoulders with some of Ireland's most established, and the crowd loved it...
The Festival got off to a poignant start with a minute silence dedicated to the late Conor O'Callaghan who's work on and passion for the Festival saw it grow from a small summer festival to a crowd pulling unmissable musical feast.
Conor, PRO for the festival died suddenly on 27th June 2002.
On Saturday afternoon buskers filled the sun-flooded streets with music and interactive, colourful street theatre performances which animated the whole town.
That evening, as recently Witnessed in mud-filled tents in Co. Meath, The Revs rendition of Ireland's World Cup anthem Turning Japeneze, really moved things up a gear and sent the crowd wild.
Lyric Board presenter Linda Martin was there with her band SIX who wowed the Sunday afternoon audience of over 7,000.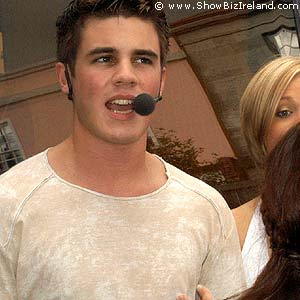 SIX at Mitchelstown
One member less, Bellefire have not lost their spark, as the thousands of young fans who flocked to Mitchelstown's New Square can verify. Their rendition of U2's All I want is you hushed the audience to such an extreme that the feint sound of church-bells nearby was all that was audible. The talented trio have just signed a new deal with East West Records and said that they are "really looking forward to working on their next album".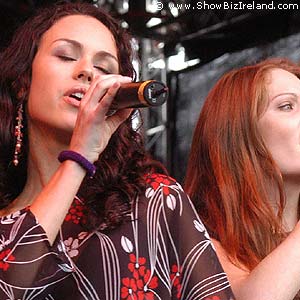 Bellefire at Mitchelstown
2FM's DJ's Ruth Scott and Tony Fenton were seen soaking up some rays on the square after hosting the Sunday afternoon's event.
Those lucky enough to get a ticket for Sunday afternoon's event, also got Fifth Avenue and Luke Thomas thrown into the bargain - offering a great day out for the whole family.
Adi Roche was hard at work, and had arranged for three star-struck children from Belarus to meet the charming Luke Thomas and pop-sensation Fifth Avenue.
The sun went down and rain arrived - bucketloads... This did not deter the 6000+ who arrived to hear the finest female vocalists in the world - the legendary Mary Black.
For two hours the crowd braved the weather and joined in the chorus of favourite songs from Mary Black's nine platinum solo albums.
On Monday evening the festival came to a close with a stunning performance and two encores for Juliet Turner, one of Ireland's most talented singer-songwriters. Juliet was supported by the equally enchanting Dawn Kenny.
The buzzy, festival atmosphere has never failed to encourage thousands of people to descend on Mitchelstown's New Square, and this year a record 30,000+ arrived.
More photos below: