Wanna Be Paparazzi & Make Easy Money?
Email us your Celebrity Digital Photos and Videos... There could be a fortune sitting in your mobile handset. If you snapped it then send it to us at:
Very. Important. Pictures.
05-04-06 news EXCLUSIVE WITH PHOTOS
Welcome to PaddyWood...
Each year at about this time the sun starts to shine, the flowers begin to blossom, the birds are in full voice and Movie Sets pop-up everywhere around Ireland...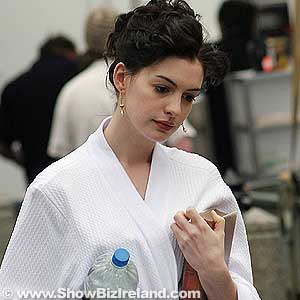 ANNE HATHAWAY ON BECOMING JANE MOVIE SET
Ireland's budding movie industry goes from strength-to-strength each year attracting international films as well as homegrown productions to both rural and urban areas.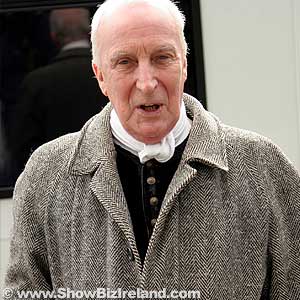 IAN RICHARDSON ON BECOMING JANE MOVIE SET
And this year is no different with 3 big and very different movies; Becoming Jane, A Tigers Tale and The Closing of the Ring - all currently shooting at various locations.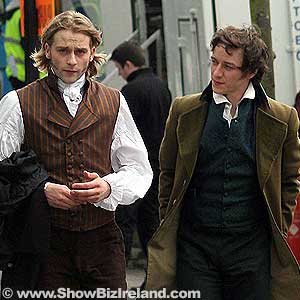 JAMES MCAVOY (R) ON BECOMING JANE MOVIE SET
Thus far ShowBiz Ireland has managed to get on set with the likes of Anne Hathaway, James McEvoy, Ian Richardson and others on the filming of period piece Becoming Jane...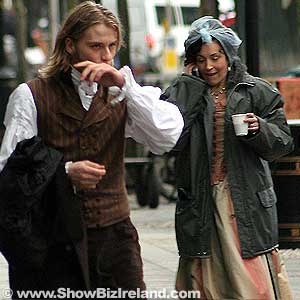 LUCY COHU (R) ON BECOMING JANE MOVIE SET
The movie is a biographical portrait of a young Jane Austin, before she found fame, and the romance she had with a handsome Irishman...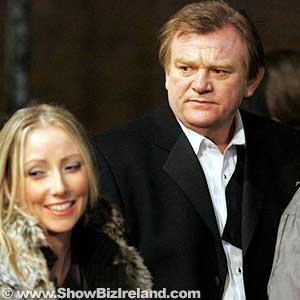 BRENDAN GLEESON ON A TIGER'S TALE MOVIE SET
We also found another exciting movie set right on our doorstep in Temple Bar as Brendan Gleeson got into two roles while filming the John Boorman movie A Tiger's Tale.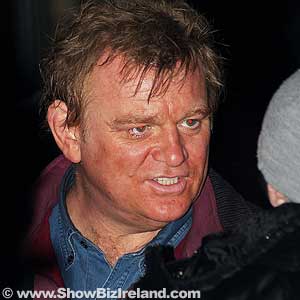 BRENDAN GLEESON ON A TIGER'S TALE MOVIE SET
Brendan and John bravely filmed scenes from the movie amid the heaving crowds of tourists, revelers, and stag & hen parties in the Center of Temple bar on busy Thursday and Friday nights!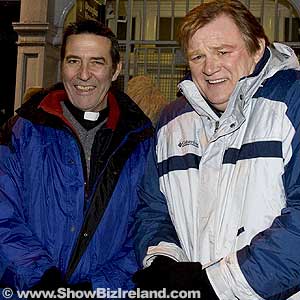 CIARAN HINDS & BRENDAN GLEESON ON A TIGER'S TALE MOVIE SET
A Tiger's Tale, which also features Sex and the City Actress Kim Kattrell, tells the story of a successful man (Gleeson) who is stalked by a murderous facsimile of himself...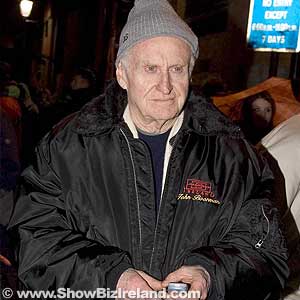 JOHN BOORMAN ON A TIGER'S TALE MOVIE SET
The reason they had to shoot two nights on location in Temple Bar was because Gleeson plays himself twice - thus when both characters are in the same scene everything has to be done in duplicate!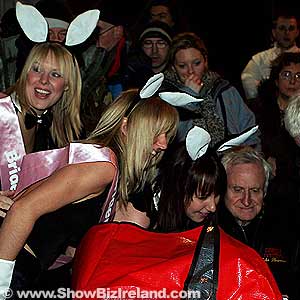 HEN PARTY & JOHN BOORMAN ON A TIGER'S TALE MOVIE SET
Director John Boorman didn't get at all hassled by all the attention his movie was getting by passers by, in fact he used it to his advantage and even recruited a number of girls from a UK Hen Party and incorporated them into a scene...
You see - you never know just what's gonna happen on a night out in Dublin!
Discuss this story in ShowBiz Ireland's Forums