Wanna Be Paparazzi & Make Easy Money?
Email us your Celebrity Digital Photos and Videos... There could be a fortune sitting in your mobile handset. If you snapped it then send it to us at:
Very. Important. Pictures.
20-04-04 news EXCLUSIVE WITH PHOTOS
Dublin Moves Kill Bill to Tears...
Television icon David Carradine took a break from walking the earth and getting into adventures to attend the Premiere of Kill Bill Vol. 2 in Dublin last night...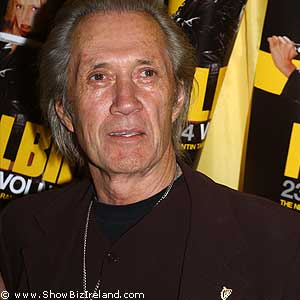 David Carradine at Kill Bill Premiere
The Savoy Cinema on O'Connell Street was packed to the rafters with eager movie-goers last night as we waited in anticipation for second installment of Quentin Tarantino's Kill Bill.
But that wasn't the only treat for the VIP crowd as we were instructed to stay in our seats through the 8 minutes of credits at the end because we were going to be addressed by none other than David Carradine himself.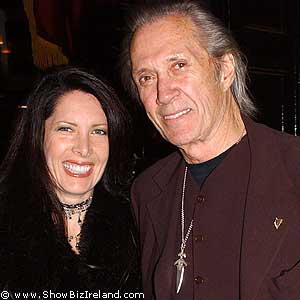 David Carradine & Annie Bierman at Kill Bill Premiere
It felt like we were going to witness a mystic otherworldly event by just being in the presence of Kung Foo master Carradine who hasn't been seen since the seventies. It was Weird!
The movie itself is an instant classic with yet again amazing visuals, dialogue, twists, action sequences, performances, and sound track. In fact, if you haven't seen the first one don't worry - Tarantino's ingenious script writing and film making abilities made this movie a stand-alone piece of great cinema.
If the first one was a homage to Hong Kong Chop-Suey flicks then Vol. 2 is a homage to the Spaghetti Western Genre.
And such was the response from the usually hard-to-please Dublin audience that when Carradine (who plays Bill) finally addressed the crowd he was moved to tears!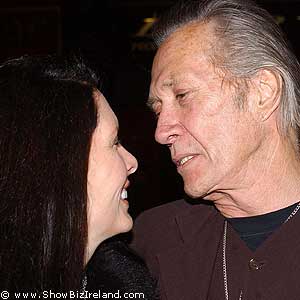 David Carradine & Annie Bierman at Kill Bill Premiere
An emotional Carradine told the crowd: "I feel like a dusty bottle of champagne that Quentin Tarantino has taken down from the shelf and shook-up."
And as he left the auditorium the awestricken crowd got to their feet and cheered him on...
Carradine was then whisked off with his partner Annie Bierman to the after party in Sosume. He may be Kung Foo master and a movie icon but he still had to stand outside in the rain with the rest of the smokers when the nicotine hunger got to him!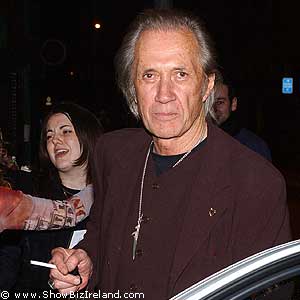 David Carradine at Kill Bill Premiere
If there's one movie you go to this year make sure it's Kill Bill Vol. 2...