Wanna Be Paparazzi & Make Easy Money?
Email us your Celebrity Digital Photos and Videos... There could be a fortune sitting in your mobile handset. If you snapped it then send it to us at:
Very. Important. Pictures.
16-04-04 news EXCLUSIVE WITH PHOTOS
Boyzone Reunite at The Games...
Well we hope all you doubters are eating your words after, as ShowBiz Ireland predicted, Boyzone reunited on live TV for the first time in nearly 5 years at The Games last night...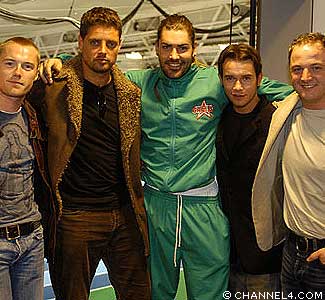 Boyzone reunite at The Games
Shane Lynch wiped back the tears as he won his third event at The Games last night after seeing the four other members of Boyzone together again for the first time in almost half a decade.
An emotional Shane said: "I couldn't believe it when I saw the lads. I did cry a moment ago. I thought I was going to lose it there and then but I'm glad I held it together. It's amazing just to see them here. I got very emotional, I was blown away. I am so happy. It's a proud moment for me."
All four members, Ronan Keating, Keith Duffy, Stephen Gately and Mikey Graham, cheered on Shane to his hat-trick of victories in the Sheffield Stadium.
When pressed on a possible Boyzone reunion Keith Duffy exclaimed: "This is a reunion! We've got five empty glasses and a bottle of Jack Daniels and believe me, we're going to sing tonight."
Ronan added: "We will tell you in the morning."
After the brief reunion Shane expalined to ex-page 3 model Linda Lusardi why the boys had been apart for so long. He said: "I was angry, just a lot aggression inside me. I apologised for it all about a year ago. It was mainly to do with me and Ronan Keating. I said sorry and he forgave me."
He also hinted there may be more to this: "Life's far from over. That was a great period in my life."
Something tells us at ShowBiz Ireland that this isn't the last time we will see the lads together...