Wanna Be Paparazzi & Make Easy Money?
Email us your Celebrity Digital Photos and Videos... There could be a fortune sitting in your mobile handset. If you snapped it then send it to us at:
Very. Important. Pictures.
08-04-02 news EXCLUSIVE PHOTOS
Keith lashes out at Ronan...
Boyzone and celebrity Big Brother star Keith Duffy recently launched a scathing attack on former ShowBiz colleague Ronan Keating.
In an interview with an Irish Sunday paper, Duffy accused Keating of being selfish and turning his back on his fellow Boyzone buddies.
"Ronan makes me so mad. All he is interested in is himself. He doesn't care about anyone else. In fact if you're not a superstar then Ronan doesn't really want to know you", said Keith.
Boyzone, the original manufactured band, have not worked together for almost 2 years, but have not officially broken up. The 28 year-old star was enraged after Ronan denounced the makers of Popstars, saying that manufactured bands were merely 'karaoke on the road'.
A vexed Keith said: "Who the hell does he think he is, saying things like that? Doesn't he remember that Boyzone were the original manufactured band? I think he has some cheek going around saying things like that".
Duffy also admitted that he hasn't had any contact with Keating for a long time, but does stay in touch with the other members; Stephen Gately, Shane Lynch and Mikey Graham.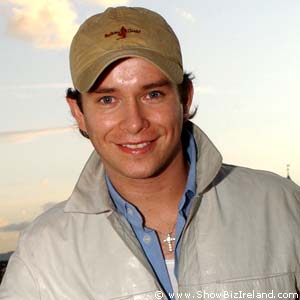 Stephen Gately on the roof of U2's Clarence Hotel last week
He is also working on a number of projects with the lads, but is currently busy juggling numerous TV roles and co-managing his new band, Broken Hill.
The five strong boy-band play their own instruments and Keith has big plans for them. "If it was down to sheer talent then these boys will be number one all over the place. I truly believe they have what it takes and I wouldn't waste my time on them if I didn't", he enthused.