Wanna Be Paparazzi & Make Easy Money?
Email us your Celebrity Digital Photos and Videos... There could be a fortune sitting in your mobile handset. If you snapped it then send it to us at:
Very. Important. Pictures.
19-04-01 news
Hear'Say hit back at Keating...
UK Popstars sensations Hear'Say caused a stir in Dublin yesterday as they announced their September concert in Ireland and then took a pop at Ireland's own Ronan Keating. Speaking to ShowBizIreland.com about how Ronan had said their No.1 Pure and Simple was no good Kym said "Ronan started with Boyzone and all their songs were cover versions and nobody stood there and slated them."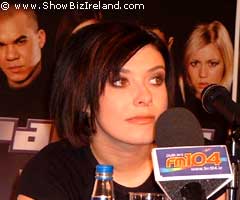 Myleene from the band then joined in and said "It's just a shame. You admire them when your on the other side of the fence but when you join them you expect solidarity which should work in the pop industry because everyone knows how hard it is. People like that need to give us a break. Like they should say we were there once. It's very sad that the industry is so fragmented."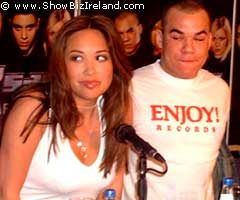 The band then went on to say that they WERE 100% manufactured and did not deny it. "We are 100% manufactured. But there is manufactured talented crap and manufactured crap," said Noel. "However, from the moment we were chosen we could either sink or swim and at the moment we are swimming right out there," Kym added.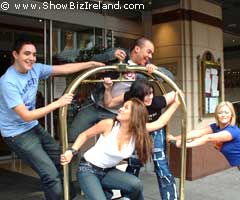 She also took time out to talk about her children and the effect the Popstars life had on them. "It was also hard for me to go and see the children as the identity of where we lived was a secret. But, now I get to see them really really often they come and stay at the house and they have a lot of new uncles and auntie's and I go home very often and we have a great life. Before I was doing this I was sitting at home in a council estate with one parent benefit and couldn't get out of the rut. What sort of a life would I have been able to give them. Now I am doing this for me and them as for me it's always been a dream. But, my children are going to really benefit from this and we are having a great time."
FOR POPSTARS INTERVIEWS CHECK OUT MCD.IE
Get your Popstars Ringtones here