Wanna Be Paparazzi & Make Easy Money?
Email us your Celebrity Digital Photos and Videos... There could be a fortune sitting in your mobile handset. If you snapped it then send it to us at:
Very. Important. Pictures.
05-04-01 news
Flora launches Dublin film festival...
The Miller 16th Dublin Film Festival announced its official programme this week at a launch in Mono, Dublin and ShowBizIreland.com were their to get all the gossip with Flora Montgomery the star of the new Roddy Doyle film When Brendan and Trudy.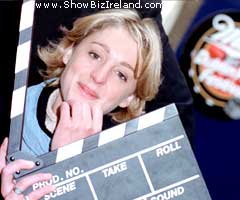 Flora Montgomery
The main programme offers an exciting range of truly international titles to please and provoke in equal measure. There are multiple selections from the cinemas of France, Italy, Germany, Australia and fascinating work from Morocco, Tunisia, Japan, Iceland, Sweden, India, Brazil and Argentina.
Joel Schumacher's Tigerland has to be one of the most eagerly awaited films of recent years as is Christopher Guest's Best In Show - a sure festival winner. Other gems include the European premieres of a host of American indies: from genre rethinks like Bruised Orange (displaced Dubliner Donal Tavy toiling in Chicago-set crime territory), to a cross-over gay crowd-pleaser like Big Eden, to a nearly-Hollywood left-fielder like How To Kill Your Neighbour's Dog.
The programme also boasts seven outstanding Canadian pictures including Robert Lepage's Possible Worlds and the superbly witty Kanadiana; the controversial The Isle from Korea (with a couple of hands-over-the-eyes-sequences with fish-hooks); a multiple awards winner from Mexico (Love's A Bitch); old-master entries from the likes of Oshima, Chabrol and Altman as well as such established talents as Michael Haneke, Takeshi Kitano, Tom Tykwer and Fernando Trueba; oddly numbered nods at the diversity of Dogme-disciplined filmmaking (the Danish-produced, desert-set Lear The King Is Alive is no. 4, while the US indie Reunion is no. 17); and a Euro-Visions section which ranges from the Hungarian Our Love to the German/Irish Conamara.
Other highlights include the two World Premieres: If I Should Fall From Grace and Willfull. The former is Sarah Share's Irish-produced summation of the evolving enigma that is Shane MacGowan; featuring classic footage from Nipple Erectors, Pogues and Popes, as well as yer man both living and obscuring his own legend in the course of a single sentence. The latter is the directorial debut of Rebel Penfold-Russell, as accessibly audacious in its way as the Aussie film she's most famous for producing, The Adventures of Priscilla, Queen of the Desert.
For all those C'n W aficionados there is a rolling showcase of Hollywood's productive dalliance with Country and Western music aptly titled Country Hearts, Country Hurts, including Sweet Dreams and Coalminer's Daughter at UCI's Coolock, Tallaght and Blanchardstown.
As ever, the Festival is an international, non-competitive event, showcasing an impressive slate of feature films new to Dublin audiences, plus the cream of new short-film production. This years programme will be supported by public talks, round-tables and interviews with the filmmaking guests.
2001 Booking Details:
The UGC Cinema on Parnell St is the official venue for the Miller Genuine Draft 16th Dublin Film Festival. The Irish Film Centre in Eustace St, and UCI cinemas in Blanchardstown, Coolock and Tallaght are also participating venues.
Main Festival Box-Office: Temple Bar Properties , 18 Eustace Street, Dublin 2 General
Enquiries: (01) 677 2866
Credit Card Bookings: (01) 677 2838 Fax: (01) 677 2857
Open from Thursday April 5. Mon - Sat 10.30am - 8.00pm. Sun 12.00 noon - 5.00pm Festival Box-office at UGC: UGC Cinemas Parnell Street, Dublin 1 Open April 20 - April 29 only, during conventional cinema operating hours
Website: www.dublinfilmfestival.com
Please direct press queries to: Kate Bowe PR at Tel: 01 671 3672 katebowe@iol.ie
Get your Movie themes Ringtones here